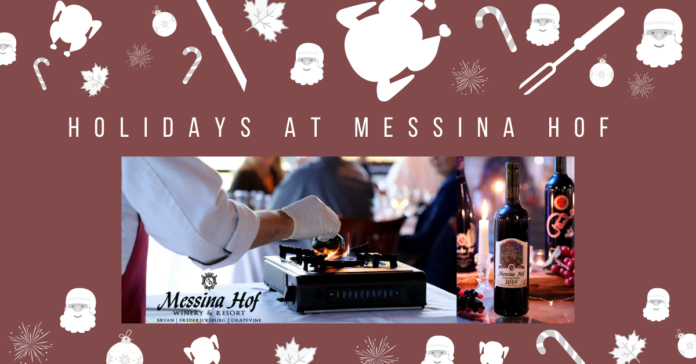 It's finally here—the most festive time of the year, and Messina Hof Winery & Resort in Bryan is offering a host of holiday activities to get everyone in the spirit!
On Sunday Nov. 22, Messina Hof is hosting a Cooking Party with the Chef with dishes for your Thanksgiving celebration. From 1-3 p.m. attendees can expect a special cooking demonstration featuring Messina Hof wines and the class is suitable for any level chef, beginner to seasoned! Not only will guests enjoy some tasty food, they will also be taught some helpful tips and techniques throughout the event. In addition, guests will be able to take home a recipe booklet as well as have the ability to enter to win fun culinary door prizes!
Throughout the rest of the year, Messina Hof is scheduled to host many more fun activities. These events include the Christmas Cooking Party with recipes for an extra special holiday gathering on December 13 and a Christmas Cellar Tour on December 18 and 19.
Also on December 19, Messina Hof will host their Christmas themed Who Killed Santa? Murder Mystery Dinner. But don't worry, it's not THE Santa that's been murdered, just the office Christmas party Santa, and you and your coworkers will have to figure out who's the guilty party with the aid of a host that guides you through the clues. Messina Hof Murder Mystery Dinners are in high demand, so be sure to get your tickets now if you would like to attend!
And since we're all already counting the days to the close of 2020, don't miss celebrating with Messina Hof at their annual New Year's Eve party, complete with exclusive appetizers, a dessert bar and a midnight toast.
In conjunction with hosting holiday events, Messina Hof also has a tasting room and gift shop open Thursday through Sunday where guests can sample some of Messina Hof's finest wines. Brunch is featured every Saturday and Sunday from noon to 4 p.m. at The Vintage House Restaurant.
For more information on events, reservations, or tickets, visit the Messina Hof website and Facebook page. You can also reach Messina Hof via email at event@messinahof.com or phone (979) 778-9463.
Sources:
https://www.facebook.com/messinahof/events/?ref=page_internal