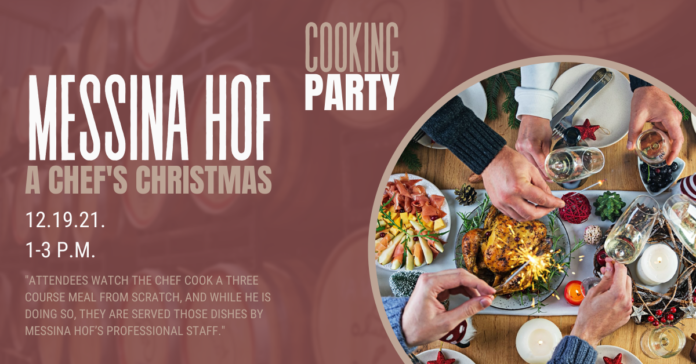 If you're looking for new recipes for your upcoming holiday parties or want to enjoy some excellent food and learn a few new tricks in the kitchen, then Messina Hof's "Cooking Party with the Chef" is exactly what you're looking for! This monthly event returns on Dec. 19 from 1-3 p.m. and will be centered around the theme "A Chef's Christmas."
Whether you're a beginner or a professional, these cooking parties are a great way to add to your cooking arsenal. Attendees watch the chef cook a three course meal from scratch, and while he is doing so, they are served those dishes by Messina Hof's professional staff.
This month's three courses consist of an arugula apple radish salad to start, followed by a beef wellington with mash potatoes and french green beans, and will be finished off with a candy cane pie with white chocolate shavings. Also, since it's Messina Hof, every course will be paired with one of their incredible wines.
If you're afraid of forgetting some of the steps in the recipe, don't worry! You'll leave with a free recipe booklet with every piece of information that was discussed in the demonstration, and may even have some extra hints from the chef himself.
And if all that wasn't enough, you might even leave with a door prize, including some of Messina Hof's fantastic food products such as their various jams, jellies, and their extremely popular port fudge.
The event will take place at Vintage House Restaurant at Messina Hof, and tickets start at $69.95 plus tax and gratuity. You can find tickets along with information about other events as well as  their products on their website.