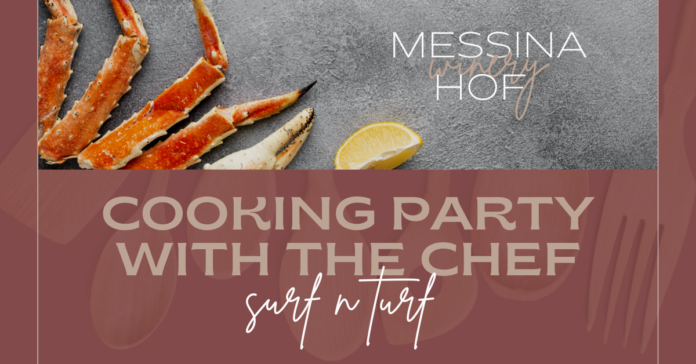 Take a break from your usual home meals and tell the fast food drive-throughs you'll be taking a raincheck for a while: this month's Messina Hof Cooking Party with the Chef is ready to help you dive into a whole new world of flavor! After all, it never hurts to try something new, especially when delicious seafood is involved.
Combining the best our seas have to offer with the tenderness of red meat, surf and turf is one of those blends you often overlook for dinner options but always remember when you dive in. This cooking party will welcome you with a wide selection of new tips, tricks, and culinary info you can apply to any type of dish. And if you're a beginning chef barely picking up kitchenware for the first time, don't worry. These classes are open to all levels and will be sure to give you new skills to wow everyone come dinner time, even if you already consider yourself in the same league as Fieri or Ramsay!
Mark your calendars and make this a monthly outing as each month brings a new cooking party and cuisine to explore. If you make it out to 6 of these parties, you'll instantly become an honorary Vintage House sous chef and enjoy 10% off on future parties. Keep it up for a year by attending 12 parties to receive an official Messina Hof Chef's Coat you can use for all your culinary ventures!
This month's party will take place Sunday, August 15, from 1-3 p.m. at Messina Hof's Vintage House Restaurant located in Bryan. Tickets can be found here but act soon and reserve your spot now as these parties tend to fill up quickly.
Your Sunday afternoon just got a bit tastier thanks to Messina Hof!