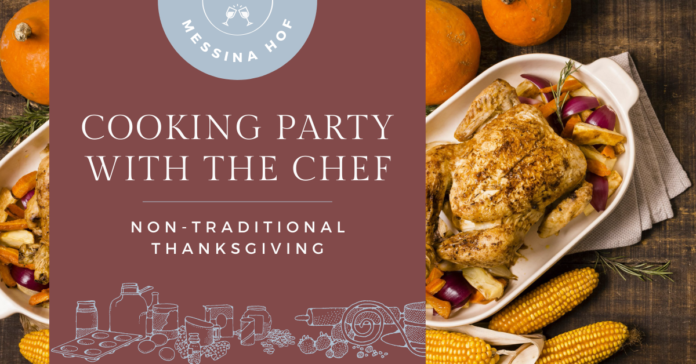 Messina Hof Winery and Resort has grown immensely from its one-acre vineyard to now being Texas' fourth largest winery. Founded by Merrill and Paul Vincent Bonarrigo and now run by Karen and Paul Mitchell Bonarrigo, Messina Hof has made a name for itself over the years by winning numerous awards all while producing 100% Texas wine.
Every month, Messina Hof hosts a Cooking Party that's the perfect way to spend a date night, a girls' night out, or to catch up with some friends. This month on November 21, the theme of the Cooking Party is "Non-traditional Thanksgiving." The chef welcomes both beginners and experts as he walks guests through instructions step by step and offers in depth lessons on spices, cuts of meat, and much more. Not only will you leave with a great experience, but also new culinary knowledge and a recipe book!
And of course, you can expect Messina Hof wine will be included in the recipes but also paired with the dishes you'll prepare, making your palate want more.
The non-traditional festivities will be from 1:00-3:00 at The Vintage House Restaurant at Messina Hof Winery & Resort, and you can purchase tickets online through their website. Make sure to hop right into all the cooking, eating, and drinking fun to get you prepared for the holiday season ahead!
If cooking isn't really your thing, come for a tour, a wine tasting, a five star meal at The Vintage House Restaurant, or a special event of your own! The winery's old country charm and warm, hospitable feel will make you feel at home. Tour the vineyard to learn about the history of Messina Hof as you sip the day away. The Vintage House Restaurant will prepare you a meal you won't soon forget from the freshest of ingredients, many of them grown in Messina Hof's own garden. After immersing yourself in the winery's history and enjoying some of Texas' best wines, you can kick off your shoes and stay the night at The Villa B&B!
Why not start a new family tradition and prepare something that's not just the same old turkey and stuffing for Thanksgiving? Join Messina Hof's Cooking Party with the Chef for a whole new menu!