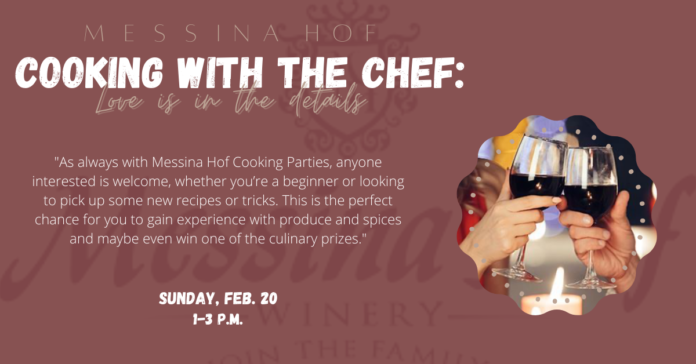 Are you interested in learning how to cook from a professional chef in a fun and comfortable environment? Join Messina Hof's Cooking Party with the Chef on Sunday, Feb. 20 from 1-3 p.m. to slice and dice it up! Held in The Vintage House Restaurant at Messina Hof Winery & Resort in Bryan, this is an opportunity you won't want to miss!
Each month, Messina Hof Winery & Resort offers a cooking party, done by one of their chefs, designed to show you how to make specific themed dishes and to put your own spin on them at home. "This February, the topic is 'Love is in the details, garnishing, and finishing techniques' meaning presentation is key," says Teri Ryan, Messina Hof's Office Manager.
Messina Hof wines feature prominently at the cooking party, with each course served with one of the wineries' finest, and many of the dishes also feature wine as one of the ingredients. This month, the meal will start off with a shredded Brussels salad with ricotta toast and paired with chardonnay. The main course, an exquisite poached cod with mushrooms, will be paired with a pinot noir. Lastly, the third and most decadent course: dessert. Finish with a blueberry and blackberry tartlet and Messina Hof's Blushing Angel Rose.
As always with Messina Hof Cooking Parties, anyone interested is welcome, whether you're a beginner or looking to pick up some new recipes or tricks. This is the perfect chance for you to gain experience with produce and spices and maybe even win one of the culinary prizes.
The Messina Hof Winery started with just 1 acre of land and fifty varietals of grapes, and they now have four different locations in Texas and have won numerous awards. Located also in Grapevine, Harvest Green, and the Hill Country, these wineries and resorts host exciting events such as weddings, parties, and popular festivals. They prioritize family and love and make that a wonderful part of their reputation and business as a whole. They also offer personalized wine bottles, shipping/delivery, and even a VIP Club.
Tickets are available here.