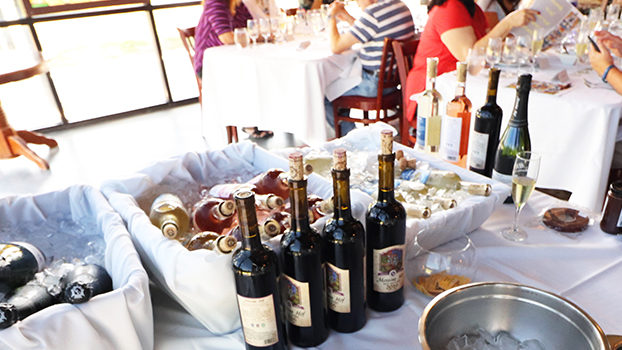 These days, the mad dash between school, work, and other activities usually means that many aspects of our lives get put by the wayside. One of the primary life skills that tends to suffer from our modern pace of life is cooking. How do we find time to enjoy preparing and cooking meals when there's such a small window in the evening to get things done, especially when takeout — and leftovers from last night's takeout — are so easily accessible? The joy of cooking is something that legendary BCS winery Messina Hof has been teaching their guests for quite some time. Once per month, they host a "Cooking Party with the Chef," where guests can learn from a trained professional, using specific techniques or meal themes. This upcoming Cooking Party on Sunday, July 21, will have a Gulf Coast Seafood theme, so don your apron and get ready to cook!
At the cooking party, you'll learn to cook a three course meal, each one paired with a different Messina Hof wine. For the opening course, you'll learn how to prepare an appetizer of Texas Gulf shrimp and steamed blue crab sauteed with roasted garlic, crushed red pepper and a Pinot Grigio beurre blanc sauce. For the main course, you'll learn to char-grill an amberjack fillet along with a quinoa succotash, sliced avocado and a spicy Chardonnay mango coulis. For dessert, you'll bake a cobbler made from moscato poached Fredricksburg peaches seasoned with cinnamon and brown sugar and topped with pecan crumble and mascarpone cream. Afterwards, you'll take home the recipes and hopefully one of the amazing culinary door prizes!
Messina Hof, for those not aware, is BCS royalty at this point. Founded by Texas A&M alums Paul Vincent and Merrill Bonarrigo, Messina Hof has been the center of commercial winemaking in Texas for over 40 years now. Aside from their award winning selection of wine, they also have a packed schedule of monthly events, from vineyard tours to dinner theaters, that is sure to keep you coming back for another visit. Individual tickets for their Cooking Parties are $69.95. You can discover more information about both Messina Hof and the upcoming Cooking Party right here: http://bit.ly/2JzXjTX.