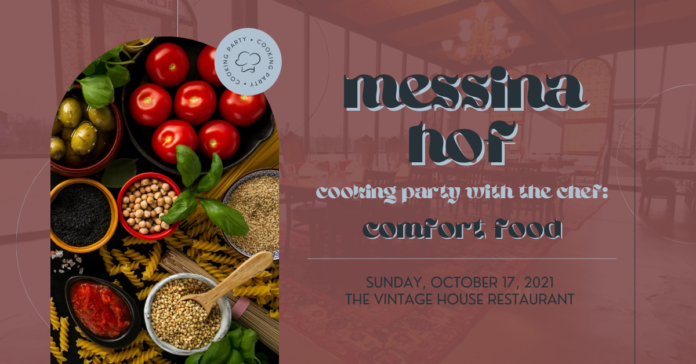 Grab your chef hat and a notepad because it's time for Messina Hof's monthly "Cooking Party with the Chef!" This month's Cooking Party is centered around the theme "comfort food," and will be taking place on Sunday, Oct. 17, starting at 1 p.m.
Whether you're someone just starting your cooking journey or an aspiring chef, you can learn new techniques and gain superior knowledge to add to your cooking skills. In fact, Teri Ryan, Office Manager of the Designer Events Department at Messina Hof says, "The chef gives a demonstration on how to create that meal in your own personal home." Attendees will observe Messina Hof's executive chef, Sean Shaw, putting together a three course meal with ingredients that he hand selected himself, and the best part is, you'll be served those dishes as he goes through the demonstration. The meal will consist of an eight bean smoked ham soup, followed by a crispy fried chicken with gravy, loaded mashed potatoes and corn on the cob, finishing off with a cream cheese strawberry marshmallow fluff for dessert. "We do have a great menu that the chef has put together," says Ryan. Since it's Messina Hof, all recipes will include one of their wines as an ingredient and all three courses will be paired with one of their wines!
You'll also receive a recipe booklet for all dishes served in the demonstration along with some helpful tips from the chef, so there's no need to worry about forgetting the small details when you want to impress your friends and family at home! And of course there'll be door prizes, including some of Messina Hof's food products such as their jellies, jams, dressings and their fan favorite, Port Fudge.
This event will be held at Messina Hof at The Vintage House Restaurant and tickets are priced at $69.95 plus tax and gratuity. Tickets and info about this and other events and their products can be found on the Messina Hof website. You'll also want to check out their award-winning The Vintage House Restaurant and The Villa B&B.