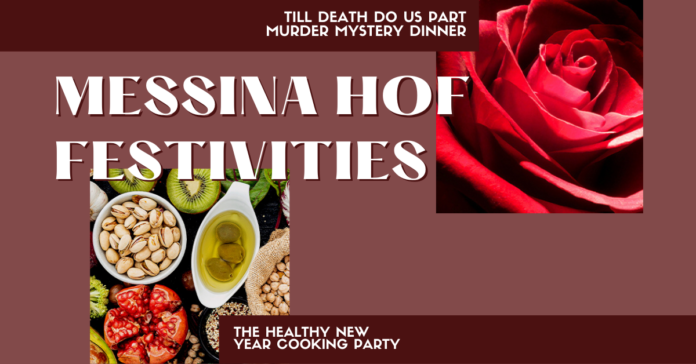 Ready to start the New Year with exciting wines and activities at Messina Hof? This month, there's two choices! If you're a food fanatic that enjoys learning new recipes, there's The Healthy New Year Cooking Party just for you on Sunday Jan. 17 from 1-3 p.m. And murder mystery lovers, where y'all at? On Feb. 13 from 7-10 p.m., solve the case at the Till Death Do Us Part Murder Mystery Dinner.
There's no need to keep looking up healthy recipes on Recipes.com because with this Messina Hof cooking party, you'll learn recipes for a healthy, tasty meal right here in BCS! And don't worry if you're not a pro in the kitchen. Messina Hof makes sure both experts and novices alike learn new techniques. The first course will be Baked Spinach Balls served with a Messina Hof Remoulade Sauce, the second course, Steamed Halibut served with a Chimichurri Sauce, Millet Pilaf and Steamed Root Vegetables, and the third course, a Lemon Ricotta Cupcake with a Fluffy Lemon Icing. What's not to like? And of course each dish will incorporate a Messina Hof wine!
Guests will receive a recipe booklet and a chance to win culinary door prizes. What better way to spend time with your friends and family than learning how to cook healthy recipes together? Tickets are $69.95 per person plus gratuity and tax.
Mark your calendars for a date night on Saturday, Feb. 13, for the Valentine's Day themed murder mystery dinner, Till Death Do Us Part. You and your significant other or best friend can attend the lovely dinner filled with exciting entertainment, but there's a twist—you are the entertainment! Guests will receive character assignments prior to the event, so everyone is involved in the mystery. Get out your clever costume ideas! You might get lucky enough to be the murderer!
Be sure to bring all your excitement because you are helping set the stage during this event. It's time to let your mischievous side come to life and your detecting skills shine! Not only will the night be filled with delicious food, but you'll also get to sip the night away with award-winning Messina Hof wines. Tickets for the murder mystery dinner are also $69.95 plus gratuity and tax.
If you're interested and want to learn more about these two festivities, click here, but don't wait too long—tickets go fast!
Sources: