Spring Wine Release: Saturday, June 20, 7:30-9 p.m. Every year, Messina Hof holds several wine releases to showcase their new and upcoming varietals and vintages. The Spring Wine Release is usually the first one of the year and is traditionally done at Messina Hof's Wine and Roses Festival Weekend.
This year, the event will take place on its own. Different from Messina Hof's other dinner parties, guests can meander to different stations to try the wine while enjoying five uniquely prepared dishes.
After the dinner, guests are welcome to look at artwork from Messina Hof's 2020 Texas Wine Label Competition and bid in a silent auction benefiting the Arts Council of the Brazos Valley.
Though the event is already sold out, Teri Ryan, the office manager for events, says they are happy to be holding the event for a smaller number of people than usual because at first, it was hard not knowing when they could actually host the release. "We are hopeful our guests will fall in love with the new selections available," says Ryan.
The wines from the release will be available after the event is held, so make sure to stop by Messina Hof for a tasting soon after!
For more info on the Spring Wine Release, visit https://bit.ly/MHSWR2020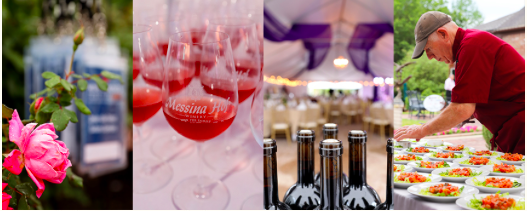 Cooking Party- Summer Fare: Sunday, June 21, 1-3 p.m.  Up next is a Father's Day delight!  Every month Messina Hof hosts a cooking party, usually the third Sunday, so this particular cooking party is special as it is the first one to be held on Messina Hof property since March. Messina Hof is ecstatic to be able to host their parties and events on property again, and as Ryan says,  "We're just very excited, thrilled beyond measure." 
This event is geared toward any dad, cook, or wine lover that may be in your family. Enjoy welled rice baked quail, steak with grilled vegetables and for dessert, a banana angel cream pie. All plates will have a demonstration by the chef and feature Messina Hof wine. Each participant also receives a cooking booklet with the recipes, allowing the guests to make these delicious dishes in their own kitchen!
Tickets for this event are still available and are $69.95/person plus tax and gratuity. Though this event isn't geared toward kids, young adults are welcome and can have prices adjusted to reflect not drinking wine (call in advance: 979-778-9463).
Guests are able to visit Messina Hof and enjoy wine flights and weekly specials at the Wine Bar, tours & shopping in the Tasting Room, fine dining at The Vintage House Restaurant, and weekend getaways at The Villa Bed & Breakfast.
To register for the cooking party, go to https://bit.ly/MHCPSFJune.
For more information about Messina Hof in Bryan, go to http://www.messinahof.com/bryan.