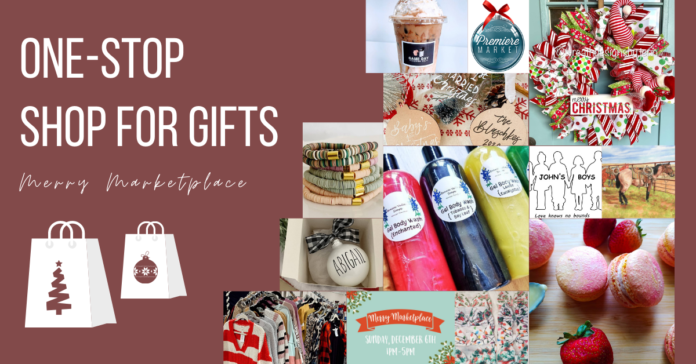 This year, perhaps more than any before, there's been an overwhelming push to shop small and support local businesses. Various resources, from crowdsourcing recommendations on Facebook to Instagram accounts highlighting small shops, have popped up in droves, but it can still be difficult to compile a decent catalog of local businesses. With Brazos Valley Symphony Orchestra's Premier Market Dec. 4 & 5 and Merry Marketplace BCS Dec. 6, that task gets a lot easier!
The Brazos Valley Symphony Orchestra Premier Market for the Holidays returns for its 8th year, featuring a trendy, upscale shopping experience. With dozens of local merchants selling various gifts and goods, this is a perfect one-stop shop for your whole crew. A complete list of vendors can be found on the market's website.
In addition to lots of local vendors, the Premiere Market will feature events such as plant sales and brunch with holiday bellinis for an additional fee. The market will be held at the Brazos County Expo on Friday, Dec. 4 and Saturday, Dec. 5 from 9 a.m.to 5 p.m. both days. This is a ticketed event, and prices vary based on which events you choose to attend. Two day shopping passes are $5. Tickets can be bought online, and all proceeds from plant sales support the Brazos Valley Symphony Orchestra, a non-profit organization dedicated to promoting the arts in the Brazos Valley.
This year's Merry Marketplace promises to bring lots of Christmas cheer with over 50 vendors! The event will take place on Sunday, Dec. 6 from 1-5 p.m. in the ballroom of the Hilton Hotel & Conference Center, so there will be lots of room to spread out and adhere to distancing guidelines. The best part? Merry Marketplace is free to attend!
Businesses range from local bakeries to clothing boutiques, with plenty of artisan crafts in between. With that kind of variety, guests can pick up gifts for everyone on their list with just one stop! Merry Marketplace has been spotlighting their vendors on their Facebook page, so be sure to browse them before you head out to the event, as some shops have such high demand they're taking preorders!
What's more, this year Merry Marketplace has teamed up with local nonprofit John's Boys to help raise funds. John's Boys is on a mission to support the local foster community through both monetary donations and donations of physical essentials for the children. In addition, they offer several different types of grants aimed at helping foster children and their families at various stages of their journeys.
Both Merry Marketplace and the BVSO Premiere Market for the Holidays are great ways to support local business owners while also finding unique and thoughtful gifts for everyone on your list. Guests should wear a mask and practice social distancing while at either event.