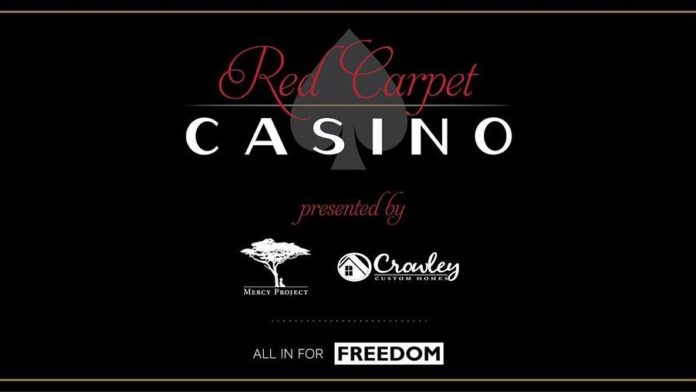 There's all kinds of fun to be had beneath the glimmering lights of Downtown Bryan, and this week, the place to be is the historical and glamorous Ice House on Main. Saturday, August 3, offers a fun night out for yourself while you also benefit children in Ghana at Red Carpet Casino night, benefitting local non-profit organization, Mercy Project. So you can lend a hand as you play your hand!
The Mercy Project's journey began in 2009 when its founder, Chris Field, made his first trip to Ghana. There, he met a little boy named Tomas who was child-trafficked to work at Lake Volta, the largest manmade reservoir in the world. Although the lake keeps the country of Ghana moving with its transportation, fishery, and tourist benefits, over 7,000 child slaves work in Lake Volta's fishing industry. Upon Field's return to the U.S., he was inspired to save Tomas and other children like him from slavery, and the Mercy Project was born.
The Mercy Project has made significant strides in accomplishing its goal to rescue these children through community empowerment and sustainable economic solutions–like partnering with villages interested in making a change in Ghana, presenting them with alternative economic opportunities, and providing them with better means, such as tanks and nets, to fish for their community. With these factors and more, the Mercy Project takes aim at the roots of child trafficking in Ghana.
There's a long road ahead in their rescue mission, but since their founding, they've saved over 100 children. Mercy Project has also earned the Vizient's Dr. Norman Borlaug Humanitarian Award in 2017. This award is earned by those notably and nobly saving lives and is named after the late Norman Borlaug, who is said to have saved billions of lives through his revolutionary drought and disease-resistant agricultural techniques. 
There's no question that the devoted people of the Mercy Project have made impressive steps toward progress, and on Saturday, you can move them forward with their next steps. Presented by Crowley's Custom Homes, Mercy Project's Red Carpet Casino night is an upscale event, and has been Ice House on Main's biggest fundraising event of the year for six years in a row! 
Your casino ticket will grant you delectable desserts from Café Eccell, a drink ticket for your choice of alcoholic or non-alcoholic beverage, and, of course, access to casino chips worth $20,000 for all your favorite table games like Blackjack and Roulette! First time playing? You have nothing to worry about thanks to the event's knowledgeable dealers that are ready to help those at all skill levels.
The event will include a silent auction as well as an energetic live auction, featuring the Mercy Project's very own founder and talented auctioneer, Chris Fields. And you'll be able to remember the evening forever with photos by All Heart Photography.
So get glitzy for a night devoted to freedom and fun that you won't forget!
Mercy Project's Red Carpet Casino night will take place at the Ice House on Main from 7 p.m. to 11 p.m on Saturday, August 3rd. Tickets are $50 per person and $450 for a group of 10 people. Ages sixteen and older are welcome. Dinner will not be served, only dessert, in order to maximize gameplay time. A cash bar will be available and cocktail attire is expected.
For more information about the event and to purchase tickets, visit https://bit.ly/2LI7wjr.
For more information about the Mercy Project and how you can help, visit https://bit.ly/2MgPft2. For more information about the Ice House on Main, go to: http://bit.ly/2YwGYrm