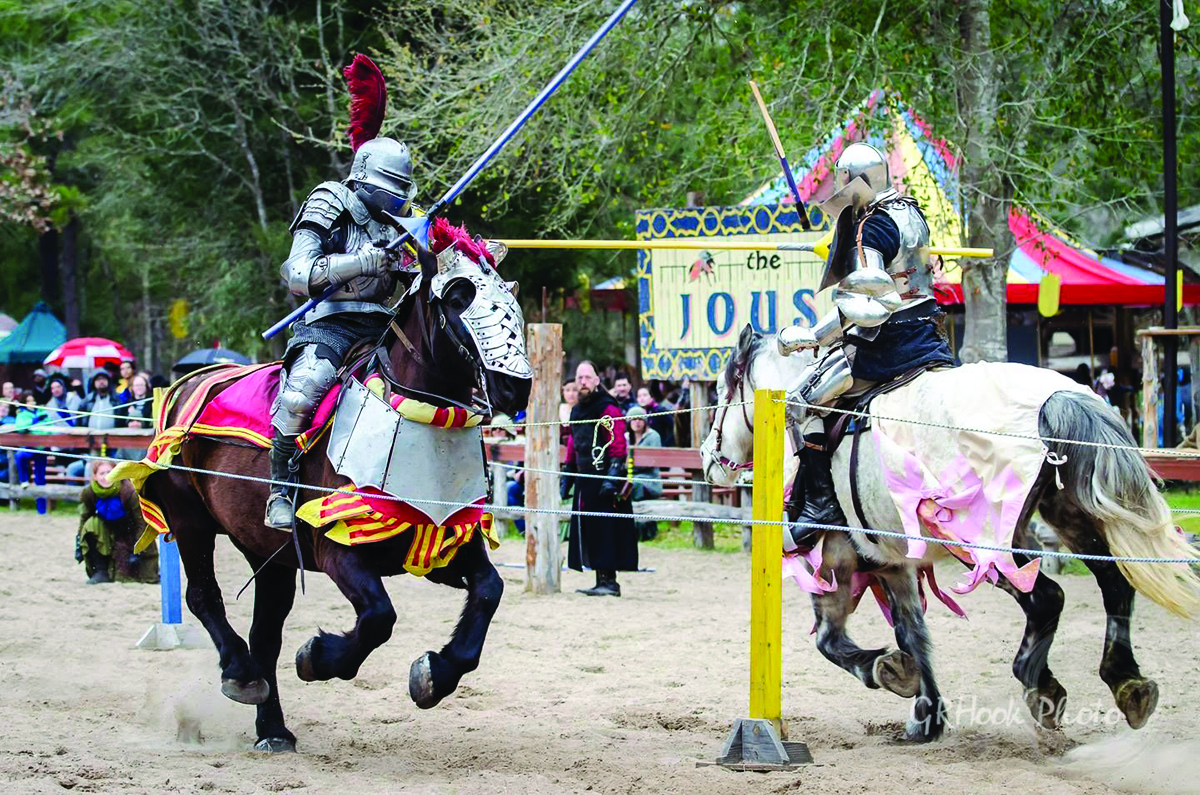 Don't the words, "Robin Hood and his band of Merry Men" just strike up a sense of adventure and romance? They might not be actual historic figures, but they'd be pretty thrilled to find out we're still celebrating life in their times. And the best part? We can have all the fun without any of the inconveniences! Travel back in time and experience medieval-themed entertainment at the Sherwood Forest Faire, weekends through April 21 in McDade, Texas. Praised for its artisan marketplace, theatrics and cuisine, the medieval-style village offers attractions for guests of all ages.
Sherwood Forest Faire hosts Robin Hood's Spring Faire each spring with over 150 live performances consisting of more than 40 different stage acts, which include full-contact jousting, falconry, fire juggling, knife throwing, 20+ live bands, comedy, sword fighting, and a castle siege. Hailed for their "awe-inspiring" talent, the stage acts vary in terms of age rating, with weekends being the most ideal time for youngsters to partake in the fun. Stage acts perform each weekend during Sherwood's eight-weekend season unless otherwise specified. The 2019 stage acts lineup can be accessed on Sherwood Forest Faire's website.
Take a bite out of Medieval England in more ways than one when you experience Sherwood Forest's food and beverage selection. The 25-acre faire grounds house nearly 20 food booths that specialize in "fine fare for every palate." Dishes such as beef and lamb wraps, turkey legs, bratwurst and falafel, among other delicacies- boar on a bun, cat in a bag and ogre toe, to name a few- are prepared by Sherwood chefs for those with a hearty appetite. Guests can pair their cuisine with beer, red/white wine, Thorin's Viking Mead or Thorin's Iron Age Cider at one of Sherwood's three pubs- The 3 Stags, The Lionheart Tavern and the Ye Olde Trip to Jerusalem Pub. Other bars include Tilted Tonics, Jolly Roger, Scarlet Vardo, Jacob's Well and Pirate Gazebo. All bars provide non-alcoholic beverages as well, including water, soda, lemonade and energy drinks. Several soda and water carts are also dispersed throughout the faire grounds for guests' convenience.
Sherwood Forest Faire is open from 10 a.m. to dusk, rain or shine, and guests are asked to adhere to the following rules while visiting – no pets (except service dogs), no outside food or beverage inside the village, bladed weapons must be peace-tied and firearms are prohibited. Those who decide to camp on-site are asked to follow additional policies, which are outlined on the Sherwood Forest Faire's website.
For more information regarding ticket prices and special offers, visit Sherwood Forest Faire's website at https://bit.ly/2OVVem9.