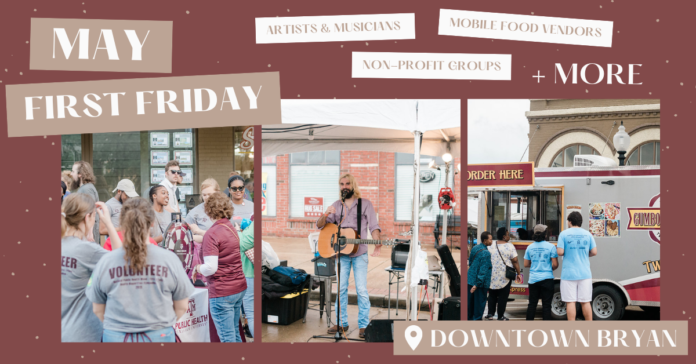 Summertime is just around the corner, and what better way to ring it in than by heading out to Downtown Bryan's First Friday? On Friday, May 7, the all-day event will be filled with live music, good food and local shopping for everyone to enjoy.
First Friday is always full of fun events like a craft beer tasting, art displays, and once, even a live wrestling match! On the lineup for May's First Friday, there'll be several free live music performances to keep you entertained all night long! Kicking it off at The Palace Theater at 6 p.m. is the Jane Long Intermediate 5th Grade Choir. Following the choir, the Bryan High School Mariachis will take the stage at 6:30 p.m., and the night will close with country band Brice and the Lonesome Strings at 8 p.m.
Downtown Bryan likes to keep it fun and exciting for guests so they can enjoy the community and the quaint downtown area. It's the perfect night to support local restaurants and businesses, and you're sure to find something new you might've never seen before. It's also a perfect chance to browse the farmer's market and visit the non-profit groups out on the sidewalks as well.
Since Downtown Bryan is a Texas cultural district, the downtown community loves getting to share all of what the area has to offer through events like First Friday. The music, events, and camaraderie found there are unique to Downtown Bryan, and it's all there for you to experience! Kick off the first weekend in May with family and friends by soaking up the summer evening sunshine in Historic Downtown Bryan!
For more information on First Friday and to see a full list of activities for May, visit the Downtown Bryan website.
Sources:
Interview with Abigail Noel, Marketing Coordinator, Downtown Bryan Association