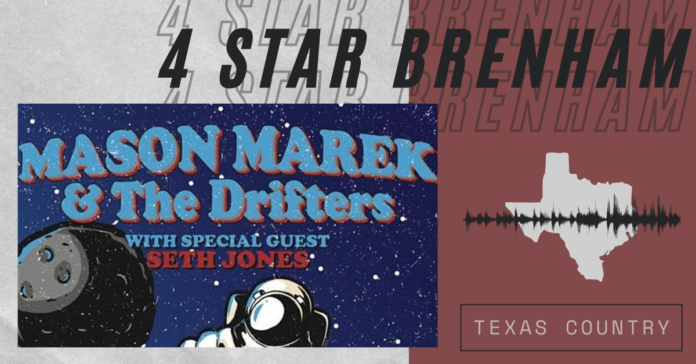 Now that school has wound down for most, why not enjoy the first full week of summer vacation by checking out some classic Texas country over at 4 Star in Brenham? While they have a packed slate of events in May, the one to note for this week is red-dirt scene up-and-comers Mason Marek and The Drifters and their opener Seth Jones on May 22 at 9:00 p.m.
While he's an old face at bars and saloons in this area of Texas, Mason Marek and his band are relative newcomers to the stage, having released their first songs as recently as 2018, with "Drifter" making the top 15 on Texas Music Spotify Charts. With a penchant for transforming tragedy into memorable lyrics, Mason Marek and the Drifters are a breath of fresh air to the Texas country scene.
Opener Seth Jones is likewise a new face to the country scene, having put his first songs out into the world in 2019 with his album "Puzzle Man." His second album, "Whiskey Attitude" was released in 2020. With a diverse range of musical interests from punk rock to acoustic folk, his take on rock-infused country is sure to delight.
If you're interested in pre-ordering the $10-$60 tickets or in finding out more about the event, you can check out the event page at 4 Star's website. We hope you can find some time at the beginning of the summer to get out and enjoy yourself, but don't forget to stay safe and social distance if you haven't received your vaccination yet!
Sources