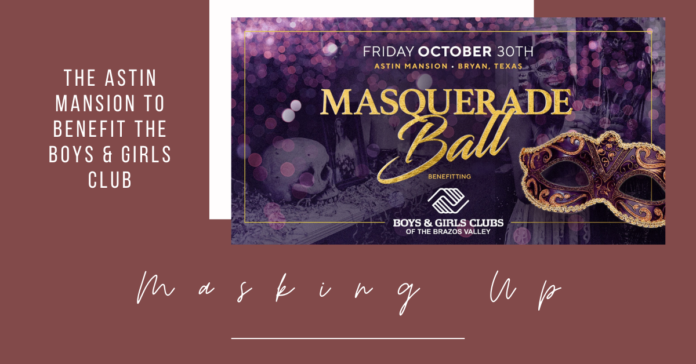 There's another exciting masks-required event coming up—but not the type of masks you might think! The Astin Mansion is hosting their 3rd annual Masquerade Ball benefiting the Boys & Girls Clubs of the Brazos Valley on Friday, Oct. 30 from 8 p.m. to 12 a.m. Face masks are still required, and masquerade masks are encouraged, as well as your dancing shoes so you're properly dressed for the night of fun ahead.
The Masquerade Ball will be a night jammed packed with entertainment—good food, music, and fun—while maintaining a safe, mindful environment for guests. The Astin Mansion will be following all state and local guidelines, recommendations, and best practices to ensure a great experience without compromising the health of attendees. Come out for a night of fanciful fun at one of the most extravagant locations in the area without worrying about your safety.
The Boys and Girls Clubs of the Brazos Valley serves the families in our community by letting young people know someone cares about them. They offer programs and services that promote and enhance the development of boys and girls by instilling a sense of competence, usefulness, belonging and influence. It's a safe place for them to learn and grow while still having fun.
The Astin Mansion Event Center is located in Downtown Bryan and captures timeless, historic charm that is perfect for a masquerade ball. The history of the Astin Mansion begins in 1909 with the marriage of Roger Q. Astin and Nina Heard. In 1920, they moved into their new home, the Astin Mansion, on 26th street in Bryan. The Astin Mansion also hosts weddings, luncheons, private dinner parties, social functions, and more.
Tickets for the event are available for purchase for $85 plus a $5 fee. Only guests age 21 or older are permitted. You can also make a personal donation of any size to benefit the Boys & Girls Clubs. Additional sponsorship opportunities are available for purchase as well, offering reserved parking, priority seating, social media mentions, and name and logo recognition.
To purchase tickets for the Masquerade Ball, click here: https://bit.ly/2Hj1c0U
Sources:
3rd Annual Astin Mansion Masquerade Ball Benefiting the Boys & Girls Clubs of the Brazos Valley