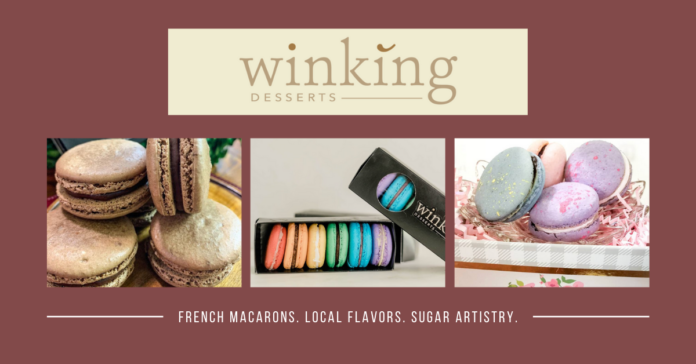 Marisa Winking, owner of Winking Desserts, found her passion for baking many years ago when she was just a teenager. Starting out as a waitress way back when, Marisa has now seen every corner of the restaurant industry. She was a bus girl, a hostess, and even a dishwasher for a time. After taking a break to pursue a career in academia, she is back in the industry, but this time with a business of her own. Marisa just opened Winking Desserts, a local pastry business specializing in macarons.
Marisa has wanted to start her own pastry shop for years. In the early 2000s, she worked for upscale fine dining restaurants where she learned a lot about food and got to work with wild and exotic ingredients. "It made me want to learn how to cook and bake," Marisa says. "My last semester of my senior year—I was a psychology major—I planned to go into counseling and get my masters. It was then that I realized that baking and pastries was my passion. That was my lightbulb moment when I realized I wanted to go into the food industry."
Starting Winking Desserts wasn't just an instant idea, though. It was Marisa's long-term goal, and so much planning, dreaming and living was done between now and then. Marisa went to culinary school at night at Lenotre in Houston, Texas, where she specialized in baking pastries. After culinary school, Marisa knew she wanted to continue working in the culinary industry, so she accepted a job as a pastry chef at Veritas in College Station. "The jobs I took provided me with a lot of experience in inventory, research & development, and all other aspects of the industry," Marisa states, all of which ultimately helped her launch Winking Desserts years later.
She wanted to choose something simple to get started with for her first business venture. Because pastry making is in her wheelhouse, she chose macarons, something she loves and is especially skilled at. Many macarons can be baked at once, and Marisa likes to source local produce to incorporate into her treats. "I still have fanciful ideas of owning a cafe and serving other food one day," Marisa says. Her favorite things to bake are mousse entremets, which usually incorporate three to five different recipes, all different in taste, texture, and skill. They are put together like a puzzle to create a beautiful, delicious dessert, complete with mirror glaze and decorations. "I love to get creative with different tastes and elements," Marisa adds, "and I hope to grow into having my own little patisserie where I can sell so many little cakes one day."
Marisa's life hasn't been all about pastries, though. Five years ago, she left the restaurant industry to focus on the many other hats she wears. She is a wife, mother of three, and full-time employee at Texas A&M where she works in the sociology department. She's been in Bryan-College Station for about 11 years now, and has kept her passion for baking alive by making cakes and cookies for friends and neighbors. "When I got back into the restaurant industry, I knew I wanted it to be on my own terms," says Marisa, so she started to get serious about what she wanted her future business to look like.
In 2019, Marisa attended Startup Grind BCS through the McFerrin Center for Entrepreneurship, where she learned so much about how to start your own business, and she used that as a foundation for Winking Desserts. McFerrin paired her up with a mentor and provided resources, workshops, and activities that help you figure out how to package what you want to produce. "What is it that I'm going to be shaping?" Marisa asked herself, as Winking Desserts was just in the beginning stages. She considered starting a catering business or even a dessert bar before she landed on doing macarons specifically.
Marisa combined her years of industry experience with what she learned at McFerrin to finally launch Winking Desserts at the beginning of this year. Some of her business plans have been put on hold, however, due to the pandemic. "It would've been easy to throw my hands up and say, 'Forget about this!' But I wanted to take this time to watch how other businesses are pivoting and learn from it," Marisa says. Though business doesn't look normal right now, Marisa still wanted to get creative and use her craft to help the community. During pride month, which falls in June, Marisa hosted a profit share where she sold a line of rainbow macarons she developed, donating a portion of the profits to the BCS local pride community center.
"First and foremost, I think of myself as a member of the community. I really want to make this place as great as it can be."
Marisa is molding her business around the ability to engage with the community around her and support other small business owners. With the pandemic completely changing the business landscape, community and connection are more important than ever. "I am always looking to meet people, find businesses to partner with, and get to know those who could impart their own business wisdom onto me," Marisa says. "Ultimately, I just want to create something for the community."
To learn more about Winking Desserts check out her Instagram account.
Sources:
Phone interview with Marisa Winking