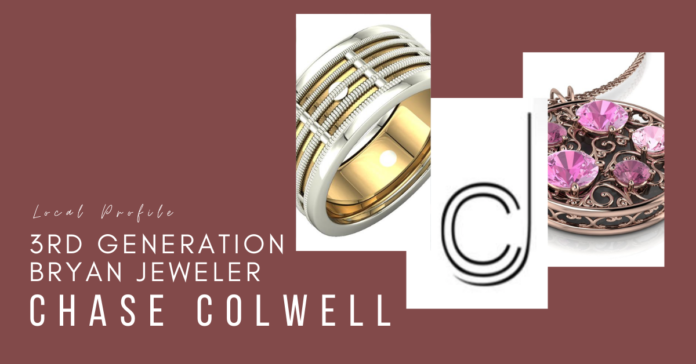 "I grew up rolling around on the floor of the store. This is really all I know," says Chase Colwell, third generation jeweler, reminiscing about spending the days of his youth at his family's business, The Jewelry Store, in Downtown Bryan. Founded by Chase's grandparents in 1975, the fine jewelry store is continuing on with the same love and care of the next generation. Chase works at the store and crafts his own jewelry line, Custom Jewelry by Chase, which is preceded by a history of its own as well.
It all started when Chase was just 15 years old. A country boy at heart, Chase grew up hunting and fishing in the morning before going to school at Bryan High, but his life has always centered around jewelry. "I was always up working at the shop, working and learning with mom and dad," he says. He started simply by making silver jewelry by hand, with one piece in particular, "The Jesus Necklace," having been created thousands of times. Chase's specialty is Christian themed jewelry, but he can design just about anything you can dream up. He first started making jewelry by whittling silver down into rings, and learned jewelry structure from his extensive practice of making everything by hand. He loves the opportunity to connect with customers and hand make one of a kind pieces unique to them.
A quick fast forward to the current day, and you can still find Chase in the jewelry store daily, welcoming guests and designing intricate jewelry pieces for them. Using a computer software called CounterSketch enables Chase to craft one of a kind pieces. He designs them digitally and sends them to a 3D printer to be created. After adopting this method of creating jewelry, business has more than taken off for the Colwells. He has since designed over 500 engagement rings, and the use of the new technology led to the best summer in the history of The Jewelry Store—amidst the pandemic no less.
Even though the pandemic has demanded that business be done differently, Chase has adapted in more ways than one to continue meeting the desires of his customers, and—most importantly—making relationships with them. He often meets with clients over video chat to design jewelry pieces together. "People are more comfortable at home anyway," Chase comments. He has since designed several engagement rings for clients out of state along with many local clients as well. Chase even takes customer's own stones from old jewelry and shows them a design on the computer incorporating them. It's more personal and affordable, without sacrificing any intricacy or detail.
As far as The Jewelry Store's Bryan location goes, the Colwells are keeping it as regular as they can. "We wear our face masks of course, but the shop still feels cozy and comfy, just like it has for 45 years," Chase states. "People come in here for that comfortable feeling. We have plush carpet floors, and we offer you a drink and sit down and talk with you. People come out here just to talk. A mom and pop shop, that's what we're for." The store hasn't changed much since Chase's grandma owned it, but over the years they've added touches of character that are more updated. Recently, Chase and his dad Robby installed his dad's 25 year old workbench into the store and mounted the flatscreen where Chase shows clients digital designs of their jewelry. It's the perfect combination of unique, raw handiwork and state of the art technology.
For Chase, his career as a jeweler is about much more than precious metals and sparkling stones. "I love connecting with customers and keeping up with them after their purchases. Seeing the proposals, the weddings and the babies come," Chase says, "that's the rewarding part. It's not about the money for me. It's really about the customers." Chase's clients and friends feel the same way, too. The Jewelry Store now has five generations of customers who come in to hear about how Chase's kids, Sophia (12), Hayden (12), and Addie (9) are doing. They love to stay awhile and chat. Chase also stays connected with the community by teaching Sunday school at Connecting Point Church and by getting to raise and lower the All-State field goal net at the Texas A&M football games, which he's been doing for the past ten years.
Chase's dream is to continue the legacy of The Jewelry Store. "The pandemic has shifted the way a lot of businesses operate, and you can't bank on anything, but this store helped me get through life, and I would never leave or forsake that. I really want to keep us local and keep us who we are until the day we can't do it anymore," Chase remarks. He would also love to see his kids working at the store one day, too. "Sophia is up here a lot helping out, she's so good with customers and adults," Chase praises his daughter.
Ultimately, Chase just wants to honor his family's business and celebrate the family he's found in the Bryan/College Station community. "It's not hard to sell things, but it is hard to make relationships with people. That's what I take more pride in."
To learn more about Chase Colwell's personal jewelry line, you can check out his Facebook page. You can also head to The Jewelry Store's website or visit their in-store location in Bryan. Maybe even sit down, have a drink, and talk for a while. Chase would gladly oblige.

Sources:
Phone interview with Chase Colwell