Now that the blistering heat of summer is in full swing, most of us here in Texas spend an embarrassingly large amount of time figuring out how to stay cool. With highs of 100 degrees and up and lows of no less than 80, turning the air conditioning to its highest setting sometimes just doesn't cut it. The best thing to do is to seek cool beverages and foods, and what more satisfyingly cool thing is there than ice cream? And did you know that in 1984, President Reagan declared July to be National Ice Cream Month and the third Sunday in July to be National Ice Cream Day? It's coming up soon, so it's time to get prepared! Thankfully, there are two excellent local creameries to help cool us down with something delicious while also allowing us to support local businesses.
You likely don't need to be reminded of Blue Bell, considering how popular it is across the South, but don't forget that Blue Bell was founded and is still headquartered in Brenham. While you can get your favorite flavor of Blue Bell ice cream in many grocery stores, nothing beats heading down to the original Blue Bell Creamery's parlor to get some hand scooped ice cream directly from the source. The observation deck is closed, and visitors are asked to wear masks, remain sanitized, and practice social distancing, but the ice cream parlor, visitor's center, and country store are still open for business! What better way to entertain the kids? Are you a fan of the classic Homemade Vanilla or something more adventurous like Moo-llennium Crunch, a vanilla ice cream with chocolate and caramel chunks, pecan, walnuts and almonds? If you're craving something cool, you can't do better than trying one of their three new flavors, Confetti Cake, Milk and Cookies, and Southern Blackberry Cobbler.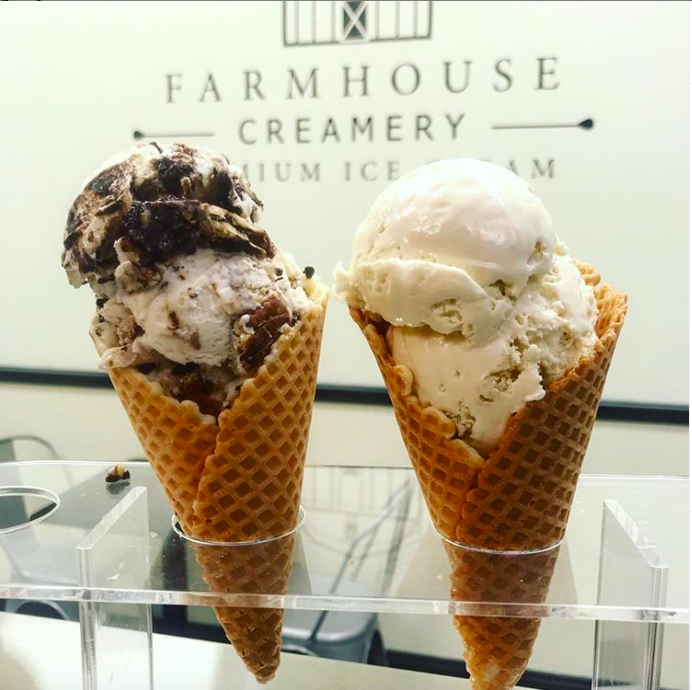 But don't forget Farmhouse Creamery on Hwy 6 in South College Station. Featuring over 100 delicious flavors, including the award-winning Butterfinger for the chocolate enthusiasts, you'll be sure to find something to suit your tastes. Who wouldn't love to try a scoop of Kahlua Fudge, a perfect blend of Kahlua ice cream swirled with chocolate fudge and whole almonds? Or maybe the exotic Guava Cheesecake is more up your alley, with chunks of creamy cheesecake. Honestly though, you'd better add a scoop of their original trademark flavor, Garbage Can®, a vanilla ice cream with chunks of seven different candy bars plus peanuts! Anybody salivating yet? Thought so. 
Farmhouse Creamery is still maintaining their normal business hours from 12:00 a.m. to 10:00 p.m., and though space inside will be limited due to social distancing concerns, there are curbside and delivery options as well.
The hottest days of the year are coming upon us quickly, so come support your local creameries by enjoying some great ice cream, and don't forget to stay safe and healthy!
Sources: https://www.bluebell.com/the-little-creamery/#visit-blue-bell http://www.farmhousecreamery.com/