Writing a story so good the reader loses themselves in the experience is not an easy task. It takes long hours and lots of creativity. Captivating an audience, no matter how old they are, is a special skill. For Molly Blaisdell, reaching that sweet spot where readers are swept away with the story is the best part. "I love working creatively. Having the chance to let my imagination run wild, I wouldn't trade it for anything else in the world," says Blaisdell.
Blaisdell has done all kinds of writing over the years, everything from graphic novels to easy readers to articles and scripts. Although she has written over 30 children's books, she doesn't limit herself to genres. "I really have no preference about what to write," says Blaisdell. She also illustrates books, including her newest children's book with author Allyson Apsey entitled "The Princes of Serendip," which was published in 2018.
"You might be thinking, 'but I thought you were a writer,'" says Blaisdell. "I am a very visual thinker. I've also been doodling on whatever piece of paper I can find my whole life." Following her dual passion for writing and illustrating, Blaisdell published her picture book, "Chickens Do Not Take Over Halloween," with her own company, Caney Creek Books, in 2015. "This project has led to a whole new way for me to tell stories."
Blaisdell has been an avid writer from a young age, and even started her own fanfiction group in junior high. "Writing started as a hobby for me. My fanfic group wrote scripts for Star Trek," Blaisdell says. "It was the late '70s, and Star Trek was off the air. I wanted more stories. Little did I know, I wasn't the only one thinking along these lines."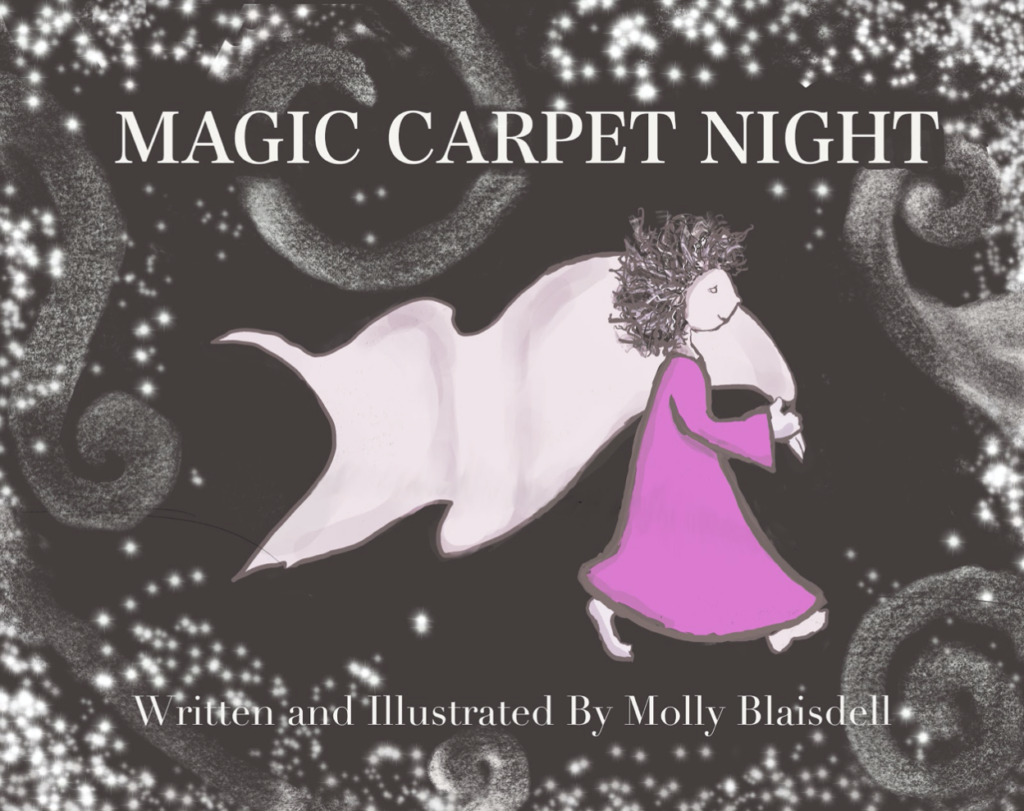 Although she is known for her writing, Blaisdell has a degree in chemistry from Texas A&M, and it was during college that she first thought about pursuing a career in writing. "I took a children's literature class, and my professor, Dr. Dorothy Van Riper, encouraged me to seek a career in children's writing, but it wasn't until I had children that I really became passionate about writing." Blaisdell found an ad from fellow local author Kathi Appelt for the Society of Children's Book Writers and Illustrators. "Her guidance set me on a path to sure success. A very lucky start," says Blaisdell.
In addition to books, Blaisdell also writes for her blog and is a freelance writer. She credits her college major to her success in freelance. "My first freelance work was from educational publishers. My chemistry degree was very handy to open these doors," Blaisdell says. In addition, writing curriculum for schools and working hard to build relationships with publishers opened the door for contracts and projects. Her blog helps with the freelance work as well. "I personally blogged for 10 years, and people who've liked my blog have hired me to write for their publications." Blaisdell believes that a media presence, working relationships and word-of-mouth is the best pathway to success as a writer. "I treat my work like a business, and my professionalism ensures that my name gets passed on to more people." Another of her passions is inspiring others to create, so Blaisdell founded TeensPublish, a program that lets teens create their own writing collections every summer. The group has been held for six years, meeting at Larry J. Ringer Library in College Station.
Blaisdell has had a lot of success, but she isn't slowing down any time soon and is currently working on two books. The first, "For the Love of God," is a story about three college girls who join a cult and endure trials through it. The novel is under the name Cece Barlow, her pseudonym for her teen novels. The second, both written and illustrated by Blaisdell, is "Magic Carpet Night," a picture book about a girl who doesn't want to sleep but is drawn into dreams. Both are sure to captivate your child or teen's imagination!
From her vast career, Blaisdell has also picked up wisdom to pass on to aspiring authors. First, be confident. "Don't be afraid to fail," Blaisdell encourages. "Send your work out. What's the worst thing they can do? Say no?"
Second, know the importance of a deadline. "Make your deadlines. I repeat, make all your deadlines," Blaisdell says.
Third, make connections. "Join professional writing organizations," Blaisdell says. "This journey is all about friends on the way."
Fourth, believe in yourself. "Never disqualify yourself," Blaisdell says. "I am too young, I am too old, I have the wrong degree, I have no degree, I have the wrong background, I'm the wrong type."
Finally, look to your heroes. "Model your writing career after someone you admire and seek out mentors," advises Blaisdell.
Molly Blaisdell has proven to be a driving force in children's literature and won't ever stop creating wonderful, captivating stories. To learn more about Blaisdell's work and to purchase her books, visit her Amazon page.