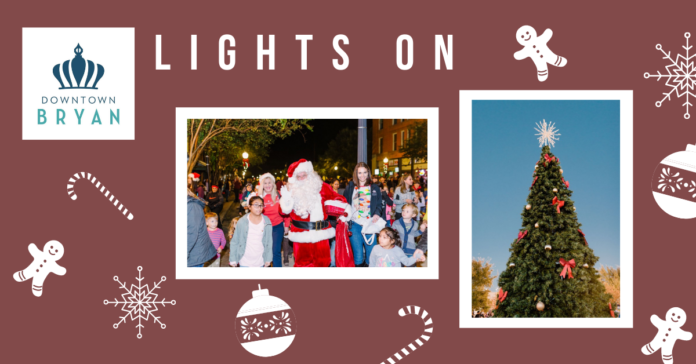 Despite social holiday gatherings looking a bit different this year, Destination Bryan is still kick-starting this season in Downtown Bryan with their annual Lights On! holiday event on Friday, Nov. 20 at 6 p.m. Thousands of lights will illuminate Main Street and Bryan Avenue this Christmas season, just like they always have.
Instead of everyone gathering at Sale Park for the lighting of the big Bryan Christmas tree, guests are encouraged to spread all throughout downtown and will still get to experience all of the lights being turned on simultaneously at 6:30 p.m. Accommodating for the safety of the guests is Destination Bryan's main priority, but the magic of Christmas is certainly not going to be lost despite having to slightly modify some of the traditions.
Lights On! is a free event open to the whole community that's more than just Christmas lights. Guests can enjoy live music, family and kid friendly activities, and plenty of shopping. There will be free live music at the Palace Theater and throughout downtown by the SFA Middle School Orchestra, Salvation Army Band and the Aggieland Brass Band. The music is sponsored by West Webb Law. Downtown Bryan businesses will also be kicking off the holidays during Lights On! by staying open late and offering seasonal deals so you can get your Christmas shopping done early.
Don't have a Christmas card photo yet? Not to worry! There will also be free outdoor photo stations scattered throughout downtown for fun holiday pictures, with photos professionally taken by Fig-Mint Photography. After the event, you'll have two professional digital images! This special Christmas gift is sponsored by RELLIS Academic Alliance and Courtney Boring State Farm Agent. And if Christmas cards aren't enough holiday spirit for you, free, pre-packaged cookies will be handed out, sponsored by the Woman's Club of BCS.
You can even use this free, decorated letter to Santa template to write your wish list and drop it in a mailbox at these locations throughout BCS: Carnegie History Center Plaza, Lake Walk Town Center and the Brazos Valley Museum of Natural History.
Destination Bryan will have sanitation stations dispersed throughout the event and asks that guests would be respectful of everyone's space downtown. Masks are required inside of the Palace Theater.
Head out to Downtown Bryan later this month for Lights On! to celebrate the holidays, support local businesses, and see the community dazzling with lights. It's sure to be a night full of free and safe holiday fun!
To learn more, visit the Lights On! event page.
Sources:
Interview with Abigail Noel, Downtown Bryan Association Marketing Coordinator