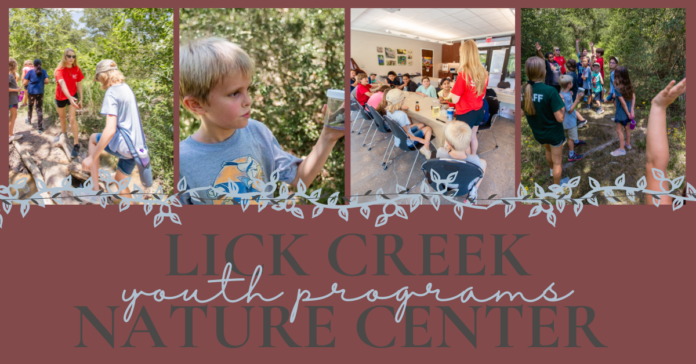 With school out and the kids home for the summer, right now is the perfect time to head to camp. But finding the right option for your child can be time consuming. If you're looking for something that strikes the perfect balance between entertaining and fun for your 7-12 year old, the Lick Creek Nature Center has an abundance of daily youth programs all summer long! Put down the video game controllers, log out of Netflix, and learn more about wildlife through each of the specialty camps designed to help kids gain new skills, friends, and great memories for the summer!
A Bug's Life, June 28-July 2, Registration ends June 25
Catch bugs from all across the 523 acre park and learn more about how each one plays an important role in our ecosystem. From the crawlers and flyers you encounter daily to the arachnids and insects you have only caught glimpses of before, now is your chance to get up close!
Nature Detectives, July 6-9, Registration ends July 2
This one is for the mystery lovers and those curious about our environment. This camp gives you the opportunity to become a detective of nature as you solve problems, search for clues, and observe the ways of our unique landscape.
Animal Planet, July 12-16, Registration ends July 9
If you think the Animal Channel is cool to watch, imagine what it's like to learn about our planet's creatures in person! Come to this session to learn more about how animals utilize their senses and abilities to survive in the wild.
Adventureland, July 19-23, Registration ends July 16
Take an adventure through the park's trails while playing games and engaging in various activities! Be ready to take on challenges that will push your problem-solving skills to the limit!
Out of this World, July 26-30, Registration ends July 23
Come create your own spaceships, planets and more while you fantasize about the wonders of outer space! From exploring constellations to galaxies, this is perfect for sci-fi lovers and anyone dreaming of one day becoming an astronaut. Out of this World is the last installation of the youth program series.
Each class will be taking place at the park's nature center from 8 a.m. to 5 p.m. every day of each session. Campers are asked to bring their own lunch, snacks, and water for the day. Registration costs $200 with limited availability, so act fast. If you are interested in learning more and registering your child, you can visit the center's website.
Sources: