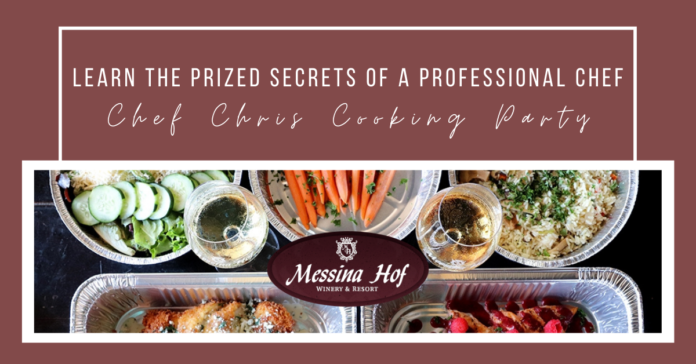 If you're eager for a beautiful fall night out and looking to polish your kitchen skills, Messina Hof Winery is back with another delicious cooking dinner, this time featuring prized dishes from Chef Chris Shepley. The Personal Favorites of Chef Chris Cooking Party will be held on Sunday, Oct. 18 from 1-3 p.m. at the Messina Hof Estate in Bryan.
Chris Shepley is the executive chef at The Vintage House Restaurant located on the Messina Hof estate in Bryan. The Vintage House hosts guests for a fine dining experience of Vineyard Cuisine- including garden fresh herbs and vegetables from Messina Hof's own garden incorporated into every dish. Every course at The Vintage House is intentionally curated with a Messina Hof wine pairing in mind to create an effortless wine and food experience.
Messina Hof's cooking parties are designed to accommodate guests of all skill levels in the kitchen. If you're an amateur, they've got you covered with beginner lessons, and experts can indulge in a huge selection of information on spices, cuts of meat, tools and more. October's cooking party will feature personal favorites from Chef Chris Shepley. The first course will feature a New England Clam Chowder, followed by Chicken Cordon bleu. Dinner will be topped off with a Linzer torte for dessert. Dishes will be expertly paired with Messina Hof wines, as usual.
A special offer is also being promoted for the cooking classes: attend six classes and save ten percent on upcoming cooking demos and become an honorary vintage sous chef. Attend 12 cooking parties and you'll also receive an official Messina Hof chef's coat.
Tickets to the cooking part can be purchased for $69.95/person plus tax and gratuity. Guests are required to wear masks unless they're eating or drinking, and socially distant practices will be in effect. Be sure to keep an eye out for Messina Hof's cooking parties if you're looking to learn something new and try some great food and wine—they happen every month!
To purchase tickets, go to https://bit.ly/2EVbBPv.
Sources:
Cooking Party: Personal Favorites of Chef Chris