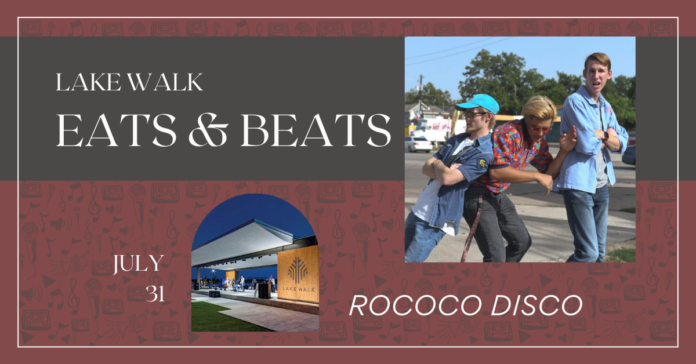 There's nothing like a warm summer night by the lake. Hot, humid air to keep you warm, soft grass to sit in, and the light buzz of the katydids to keep you company.. Add in some rocking live music, delicious food, and a cold drink and suddenly all of the best parts of summer have combined for one awesome night. This is exactly the formula Lake Walk follows to create their Eats & Beats summer concert series.
Lake Walk hosted its first Eats & Beats in 2017 with two goals in mind, to promote the newly developed Lake Walk Town Center, and to create fun weekend nights for the community. Eats & Beats offers a little bit of something for everyone, with each biweekly concert featuring a different musical act ranging from classic country to soul. In addition to the music, attendees can enjoy yard games, giveaways, and a variety of food and drink choices from local vendors.
Headlining the final Eats & Beats concert of the summer is the indie pop duo Rococo Disco. Despite both growing up in Austin, the two bandmates didn't meet until they got to school at Texas A&M. Since then, they have continued to produce new music, and regularly play shows in the BCS area. The band's sound is much like the combination of diverse terms that make up their name: "rococo," the ornate and asymmetrical design elements from 18th century Europe and "disco," the rhythmic 70s pop dance music with a heavy bass line. Think depth of musicianship and flourishes coupled with a bass line that gets your blood grooving.
The Eats & Beats Rococo Disco concert is scheduled for Saturday, July 31, at 8 p.m., but come at 7:30 p.m. to stake out your place on the lawn and enjoy the fare from the food trucks. Attendance and parking are completely free, and guests are welcome to bring their own blankets or lawn chairs. As always, Eats & Beats is a family friendly event, so both kids and leashed pets are welcome.