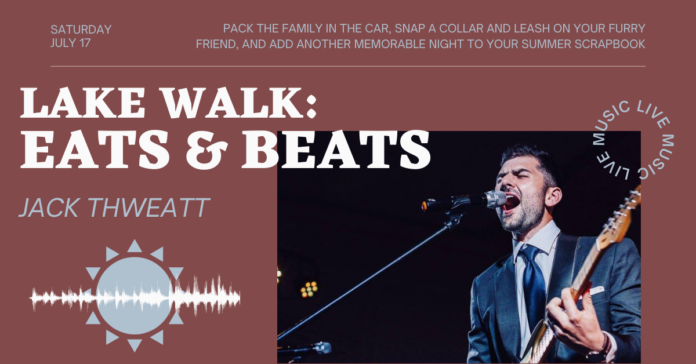 Whoever said you have to spend money to make a memory obviously never experienced a free concert at the Lake Walk. Sometimes all you need is a spot on the cool grass next to friends or loved ones, soaking up the setting sun and live music. If this sounds like a memory you want to make, then head out to Lake Walk Saturday, July 17, at 8 p.m. to catch local artist Jack Thweatt take the stage for the latest segment of Eats & Beats!
Given his degree in aerospace engineering from A&M and position as a worship leader for Breakaway Ministries, Thweatt hasn't exactly taken the typical route to musical success. Though he was tempted to pursue a more secure career in engineering, he instead took the road less traveled by following his dream and moving to Houston. There he worked on his debut record, "You Take Me Back," released in 2016. Ever since, Thweatt has found his name on billboards across the state, giving clout to his heartfelt sound that is showcased through songs such as "Grace" and "I'm Not Ready."
And since this concert is part of the Eats and Beats series, no need to worry about fitting dinner into your schedule. The venue will host a unique selection of local food trucks starting at 7:30 p.m., just 30 minutes before Thweatt takes the stage! So whether you're craving a cold beer to cool off from the summer sun or want to try something new, Lake Walk will have all your evening needs covered!
Thweatt's performance marks the second to last installment of this summer's Eats & Beats concert series, with indie pop duo Rococo Disco taking the final performance on July 31. First time heading out to the Lake Walk? Then get there early and take in Lake Atlas' gorgeous views or check out the variety of small businesses and restaurants located in the heart of Lake Walk's Town Center.
Pack the family in the car, snap a collar and leash on your furry friend, and add another memorable night to your summer scrapbook by heading out to the Lake Walk this Saturday!