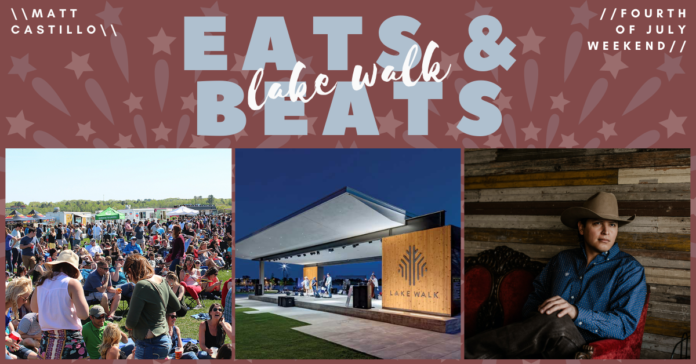 This upcoming Fourth of July weekend just got a bit more festive! Fold your blankets, pack your lawn chairs, and get ready to bring in the holiday with a night on the water through the latest installment of Lake Walk Eats & Beats featuring Matt Castillo on Saturday July 3 at 8 p.m.!
Including an observation tower with one of BCS' most spectacular views, the Stella Hotel and more, Lake Walk has fostered a unique space for the community to come together and take it easy. Making a return this summer, Lake Walk's Eats & Beats concert series gives you the chance to discover your next favorite artist while enjoying a variety of local food trucks in the midst of Lake Atlas' beauty. And the best part of this entire series? It's FREE!
Matt Castillo, a familiar face around clubs and music venues across the Lone Star State, has embraced the persona of a true cowboy through his charismatic character and rugged spirit. Born in Austin and raised in the Rio Grande Valley city of Edinburg, Castillo was influenced by a rich musical tradition that inspired his own unique brand of western sound. Though Castillo never received the advantage of mainstream promotion, he still found a way to leave an impression on fans across the nation through songs such as "Say It" and "For You." With upcoming dates across Texas throughout the summer, a new EP from this year under his belt buckle, and plans to one day tour across the entire nation, it's safe to say that the future of country music is in good hands with Castillo leading the way.
Leave the coolers at home and treat yourself to the great selection of food trucks on-site that will start serving at 7:30 before Castillo hits the stage at 8 p.m.. A full list of items allowed at the event can be found here. Take a walk around Lake Atlas, gather your friends and family for a picnic under the setting sun, and enjoy these coveted summer days that will soon be gone by heading out to Lake Walk a night before this Fourth of July!
Sources: