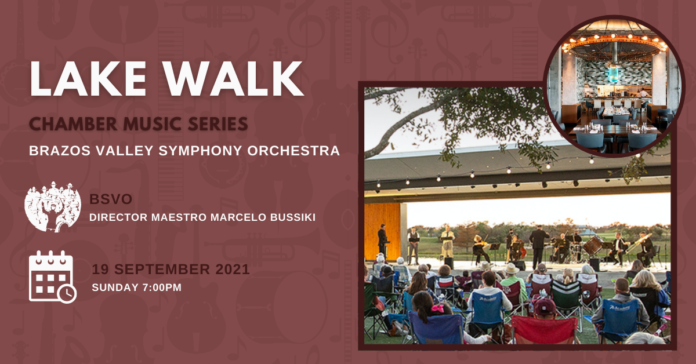 One thing we've all learned during the pandemic is how to develop new ways of adapting and gathering together. That's certainly the case with the Chamber Music Series, as Lake Walk again hosts the Brazos Valley Symphony Orchestra (BVSO) for the third and final concert of the series on Sept. 19.
What started out as a necessity is now continuing out of excitement, and this last concert will have plenty of that as it features a percussion ensemble beginning at 7 p.m. "We hope by highlighting BVSO at Lake Walk, we can introduce community members to the incredible talent we have in our backyard," says Alysha Noorani, Special Events Coordinator for Lake Walk. "It's an excellent opportunity to support and celebrate the local arts in our community."
Make yourself comfortable at this informal event while you enjoy music from the BVSO and their director, Maestro Marcelo Bussiki. Grab a blanket and pack a picnic to enjoy with friends, family and even your pets, all while watching a beautiful sunset on Lake Atlas. This event is a gift to the community, free and open to the public.
Lake Walk encourages you to dine in or take out food at the nearby Campfire Restaurant at The Stella Hotel for your convenience and enjoyment. The stage is set and waiting for you with a perfect Sunday night to close out the weekend and this year's Chamber Music Series!