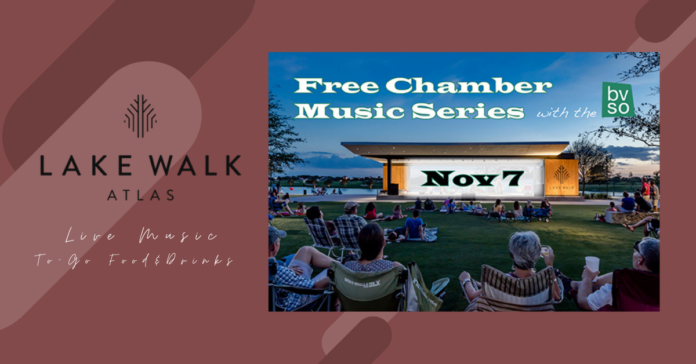 Fall in Texas usually means cool, pleasant temperatures that make for a perfect night spent outside. And what better way to spend that perfect fall night than listening to live music? On Saturday, November 7 at 5 p.m., the Brazos Valley Symphony Orchestra is wrapping up their special gift to the community: the free Chamber Music Series, hosted at The Pavilion at Lake Walk, just outside The Stella Hotel.
It's probably been quite a while since you've been to a live concert, so this show is a perfect opportunity to get to experience live music again while still being safe. Maestro Marcelo Bussiki and the professional Brazos Valley Symphony Orchestra musicians will provide a free and informal performance for you to enjoy from your picnic blanket or lawn chairs at Lake Walk. Select principal musicians from the BVSO will be performing, featuring "The Soldier's Tale" by Stravinsky, chosen by Maestro Marcelo Bussiki especially for this concert.
Taken from a Russian folk tale by Alexander Afanasyev called "The Runaway Soldier and the Devil," the hour long piece relates the story of a soldier who makes a deal with the devil: the soldier's fiddle in return for riches.
The Stella Hotel will be having "to go" food and drink options available for concert attendees to pick up and take over to the Pavilion to enjoy during the performance. You can head over to The Stella after the concert for a bite to eat or sip on a drink at the bar inside.
In order to abide by the state-issued guidelines, all attendees must wear a face covering when unable to feasibly maintain six feet of social distancing from someone who is not in the individual's household or outside of the individual's group. Attendees may not be in groups larger than ten people.
The Chamber Music Series will be held at The Pavilion at Lake Walk in Bryan from 5-6 p.m. Since the concert is free, no tickets will be necessary. This is the final concert in the Chamber Music three part series, so take advantage of it while you can!
For more information, visit https://bit.ly/3osCJr2
Sources:https://bvso.org/event/bvso-free-chamber-music-series-part-iii/