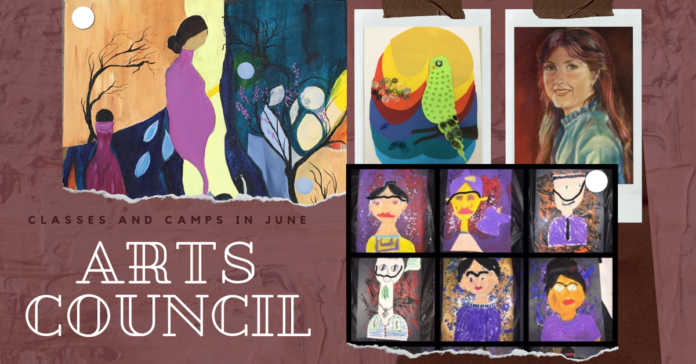 For anyone looking for a fun and creative way to spend the summer, The Arts Council of Brazos Valley is a great place to start. The Arts Council is dedicated to making art accessible to everyone, putting a lot of effort into making their classes fun as well as informational.
Claire Lakin-Koel, whose daughter attended last summer, gave these programs a glowing review. "They're fantastic classes," she says. Her daughter especially likes them because they let students create their own artwork using the techniques being taught, as opposed to many children's programs that force you to copy a model.
Summer Classes for Adults You're never too old to learn something new, especially when it comes to art. Every Saturday in June, the Arts Council will hold an adult class from 1-4 p.m. While one class is split up across 2 days and costs $90, the other two classes this month will each last one day and cost $40. These courses are great opportunities to be creative, learn a new technique, or just get out and have fun.
Always wanted to give acrylic paint a try, but wasn't sure how? Here's your chance! "Go Crazy with Color, Acrylic with Coleen Bradfield," the first adult class of the summer on June 5, will explore using acrylics and color mixing to make abstract art. There will be a provided picture to work off of, but participants are encouraged to bring their own images.
If you've ever been interested in watercolor, this is the class for you, even if you don't have drawing skills or have previous training. The two day course "Beginning Watercolor Lesson, Part I & II with Chris Wilson," June 12 and 19, will give attendees the chance to learn watercolor basics in a judgment-free environment. Participants will get to see a demonstration of the techniques before starting on their own project, painting a stained-glass window.
You know the iconic scene in "Titanic" where Jack is sketching Rose? Well, now you can learn how to draw people like that, too. (Well, maybe not exactly like that.) "Introduction to Life Drawing with Trevor Coopersmith" on June 26 covers the fundamentals of drawing the human body. Participants will learn about gesture, structure and anatomy while drawing with movement and fluidity. There will be a live model provided.
Summer Camps for Kids After quarantine and an abnormal school year, our kids could use a creative outlet. And what better way than an art camp with The Arts Council? They have two camps each week this June, a morning one from 8:30 a.m. – noon and an afternoon camp from 12:30 – 4 p.m., starting June 7. Each camp is $125, which includes supplies and instruction. For exact dates and times for each camp, visit The Arts Council website.
WEEK 1 June 7-11
"Colorful World of Pastels" with Amanda Lynne 8:30 a.m.-12 p.m., Ages 7-18
Pastels have a reputation for being calm and pleasant. In this morning camp, students will get to work with these relaxing colors as they paint a beach-themed piece based on objects Lynne will set up in the room. Not interested in the beach? Students can also bring their own pictures to work from.
"A Toy Story" with Krislyn Koehn 12:30-4 p.m., Ages 15-18
Have a passion or appreciation for animated content? Then here's a class that might be of interest. This afternoon camp revolves around the art of animation. Students will spend the class making a short animation while learning about the history and technology behind animation.
WEEK 2 June 14-18
"Art Adventure" with Jessica Horvath 8:30 a.m. – 12 p.m., Ages 7-11
Not sure yet exactly which art medium is the best choice for your budding artist? That's okay. Bonham Elementary art teacher Jessica Horvath offers an adventurous camp where every day is completely different as students discover new artists and create art inspired by their works.
"Music Jamboree" with Jessica Steels 12:30-4 p.m., Ages 5-7
When discussing art, it's important not to forget about music. With these classes, your kids can participate in the only music camp from the Arts Council in June. Here students will explore music and dance in a fun and inviting atmosphere.
WEEK 3 June 21-25
"Paint Party" with Jessica Horvath 8:30 a.m. – 12 p.m., Ages 7-11
If your child loves double dipping, this one's the right choice! Paint all morning trying out different techniques and paints, and yes, double dipping is one of the techniques explored.
"Incredible Art" with Brandi Walden 12:30-4 p.m., Ages 6-11
When exploration is the name of the game, try this camp with Rayburn Intermediate's Brandi Walden. By making pieces through drawing, painting and sculpting, students will get to learn to work with a new medium each day.
With so many options, our inner artists are spoiled for choices! And there's more coming in July! Be sure to sign up immediately as these camps fill up fast! Click here to register for adult classes and here for kids classes.
https://www.acbv.org/p/programs/offered-programs/SummerArtCamps