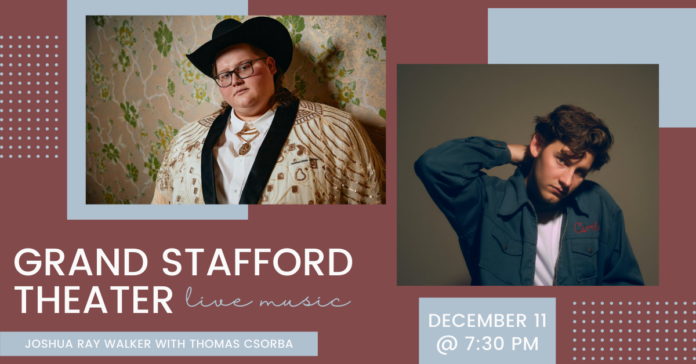 If you didn't already have plans for this Saturday, you will now, because Grand Stafford Theater is hosting several artists who will definitely do it right.
Country and Americana singer songwriter Joshua Ray Walker performs on Dec. 11 and with a voice you do not want to miss hearing live. Raised in Dallas, Walker's songwriting is infused with Texas culture. Bryan is one of his stops on a 2021-2022 tour that takes him across the nation and through the United Kingdom.
Described as a baby face with an old soul, Walker has a unique ability to turn deep thoughts into bar music, writing with a romantic spirit and singing with a heavy heart. As a poetic songwriter, his music often examines characters' hearts as a way to examine his own. When Walker sings, his poems turn to song with a voice that moves as easily as Reveille's fur in the wind. Because his vocals are so controlled, his albums can maintain subtle instrumentals that let his voice shine.
Joining him will be Thomas Csorba, pronounced with a hard "ch" at the start, who is also a native Texan. Csorba has performed at SXSW and Luck Reunion, and the Houston Chronicle has strongly suggested that he may be the next great Texas songwriter.
Get ready to be captivated by Walker and Csorba! You can purchase tickets online in advance for $12 or at the door for $15. Doors open at 7:30 p.m. and music starts at 8:30.