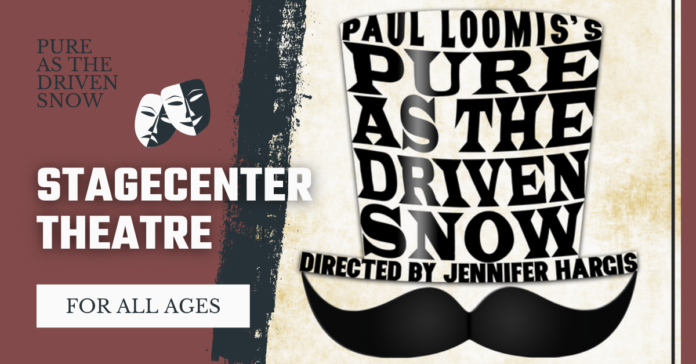 Lovely heroines. Courageous heroes. Comical villains. These are the makings of a true melodrama. This August, come see characters like these take center stage as StageCenter Theatre performs "Pure as the Driven Snow," live for your viewing pleasure. So on the weekends from Aug. 12-28, grab some refreshments, find the best seats in the house and get ready to throw some popcorn!
"A lot of people ask when the next melodrama will be," says Director Jennifer Hargis. They like them "because the audience gets to participate. They throw popcorn, they boo, they hiss, and they cheer."
StageCentre's melodramas are a great way to get new people involved with theatre, especially kids who can't sit still for less interactive productions. The only downside is that the popcorn they sell isn't meant for consumption. In order to make sure it's safe to throw on stage, the popcorn is unsalted, unbuttered, and made days in advance. But that doesn't mean the audience can't enjoy other refreshments like soda and candy.
"Pure as the Driven Snow" is a melodrama about ex-cannery worker Purity Dean (Camilla Busselberg). After running from her former job and ill-intentioned boss Mortimer Frothingham, (Harold Presley), Purity stays at an inn where she meets pickle factory manager Leander Longfellow (Zack Brattin). Hijinks ensue as Mortimer hatches devious plots to tear up the young lovers in order to get Purity for himself. And though Purity wants to marry Leander, she has a terrible secret stopping her. Wondering what that secret is? Come find out for yourself!
Evening showings will be at 7:30 p.m. for $10-15, while the Aug. 22 matinee will be at 2 p.m. for $10. Just remember, StageCenter has a strict late policy, so try to get there at least 15 minutes early.