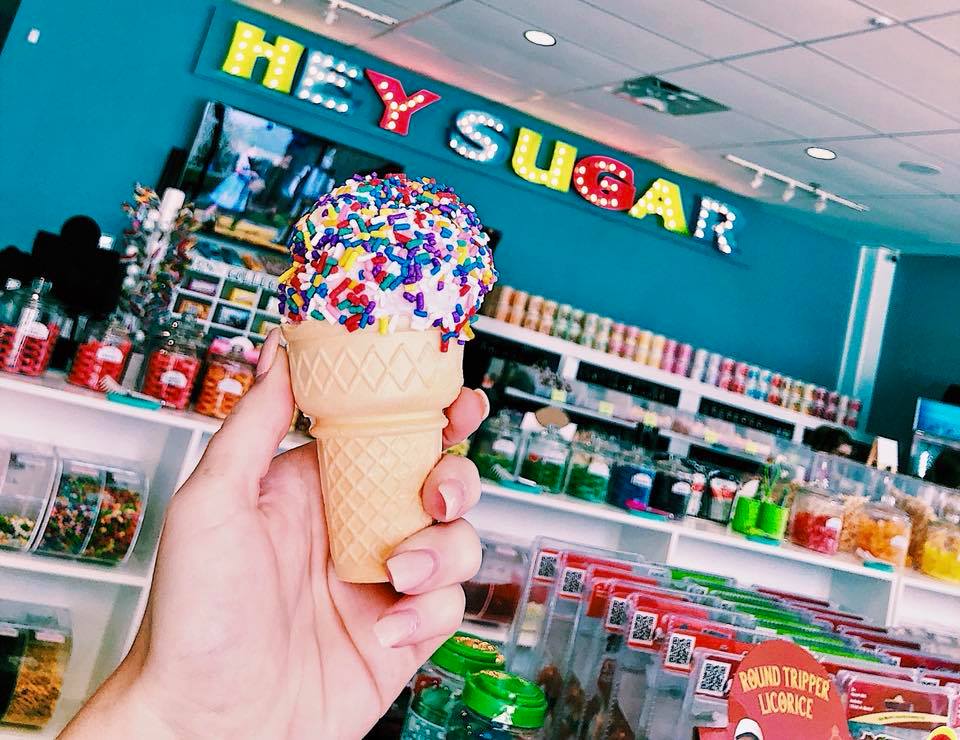 Candies, and cookies, and crepes, oh my! There's no yellow brick road, but there's an endless amount of unique sweets adjacent to Texas A&M University in Century Square. This thrilling new destination has what your heart desires and your sweet tooth craves.
Hey Sugar's old-fashioned candy store gives you a blast from the past with the vintage candies, soda, and ice-cream your parents, grandparents or even great-grandparents might have enjoyed growing up. The vibrant vintage style and turquoise walls allow each customer to step into a true old-fashioned candy store experience. Hey Sugar's rainbow of colorful candies in clear containers is a feast for the eyes and exudes an aroma of sweetness that welcomes every customer.
After you've enjoyed some tasty retro treats, head over to Sweet Paris Crêperie and Café.  Sweet Paris offers guests a fine dining experience with street-styled crepes in a serene French dining atmosphere. Watch the chef prepare your delicious crepes from an open kitchen as the aroma wafts over you.  If you're having a hard time deciding which crepe to choose from, this creperie offers a specialty crepe of the month. This August, try the Tres Leches or Honey Balsamic Chicken. Sweet Paris also serves vegan, gluten free, and dairy free crepes upon request. The Crêperie caters to early birds and evening diners alike from 8 a.m. – 9 p.m. on weeknights and until 11 p.m. on Fridays and Saturdays. "The Happiest of Hours" runs from 11 a.m. until 7 p.m. Monday through Thursday with beer and wine selections. So, while in "Paris," enjoy your stay in this modern French café under a dimly lit chandelier and bask in the ambiance.
And if that's not enough, now you can indulge in warm cookies in the comfort of your own home because Tiff's Treats cookie delivery service will bring your cookies right to your door. Prepared however you like them, the cookies are baked fresh when you place your order. Cookie flavors range from gooey Chocolate Chip, Oatmeal Raisin, Sugar, Peanut Butter Chocolate Chip, to many more. The shop also offers other delights—a chocolate fudge brownie and the TiffBlitz, a vanilla ice cream treat, blended with chocolate chips, brownie bites, and topped with frozen sugar cookies. Tiff's Treats caters for events, providing specially baked cookies, brownies, and ice cream and have mini boxes for weddings, parties or any other special occasion. (Requires a minimum order of fifteen dozen cookies.) These sweet treats are easily accessible through the Tiff's Treats app for anyone who has a craving for something delicious.
When heading over to Century Square, pamper your sweet tooth with crepes, candies, cookies and much more!