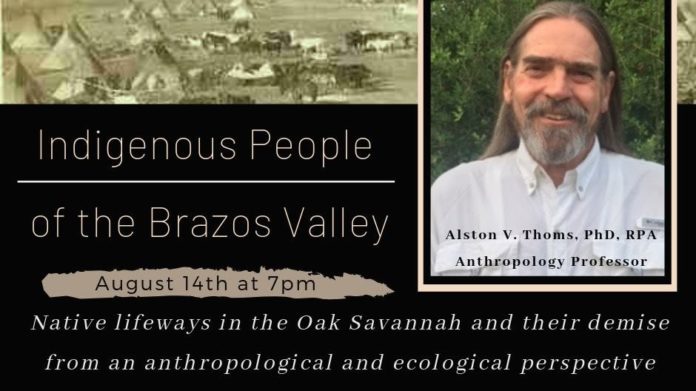 Before we could two-step the night away at Harry's, drive by the huge campus of Texas A&M, or even drive a car at all, Bryan and College Station were a part of the open and untouched plains and woods of the Brazos Valley. We tell many a tall tale here in Texas, with our legends of larger than life Sam Houston and Santa Anna, but how much do we know the history of those that came before? What about the people who lived in the Brazos Valley centuries before some of our ancestors stepped foot in what would become our home? This Wednesday, join Brazos Writers at their monthly meeting where they will host Alston V. Thoms, PhD to speak on the Indigenous People of BCS. 
According to the Brazos Writer's Facebook event page, the talk will be presented by Dr. Alston Thoms and will focus on "native lifeways in the Oak Savannah and their demise from an anthropological and ecological perspective." If you're curious about the people who lived here before our state became the Republic of Texas, the writers found the right person to explain it to you. Dr. Thoms, currently a professor in the Department of Anthropology at Texas A&M University, has been just as curious about the subject his entire life. 
In addition to teaching high-level anthropology courses, Dr. Thoms has intensively studied "hunter-gatherer land-use intensification," and the evolution of "plant-food cooking technology." Lately, he and his students have been studying earth-oven cookery all across Texas and even hot-rock cooking. Yes, it can get pretty hot in our great state, but believe it or not, there's more to hot rock cooking than the heat of our Texas sun! For his research and for the benefit of the community, Dr. Thoms went so far as to create the annual Hot-Rock Cook-Off! 
To this day, Dr. Thoms works with indigenous peoples of the United States who can trace their heritage all the way back to, you guessed it, good old Texas. Get ready to poke Dr. Thoms for questions, because there's no doubt he'll be ready!
Since 1987, Brazos Writers continues to provide a place to mentor, learn, and exchange ideas between writers—but there's no need to be a writer to attend! Anyone who's interested is welcome. Want to freshen up and grab a better understanding of the material before showing up? Before the day of the meeting, the Brazos Writers encourage you to snag a preview at the Brazos Valley Museum and check out all things prehistoric BCS. Every piece of land has a story, so why not find out how it all began here in Bryan and College Station? 
The Indigenous People of BCS will cover the historic population of the Brazos Valley both before and after contact with Europeans. You can expect to attend the presentation at the Meyer Community Center (formally known as the Arts Council building) in College Station due to the temporary closing of the Brazos Writers' usual meeting place. The meeting will take place at 7 p.m. on Wednesday, August 14.
To see more about the event, visit https://bit.ly/2YHbn2k.
To learn more about Alston V. Thoms PhD, visit https://bit.ly/2YopQF0.