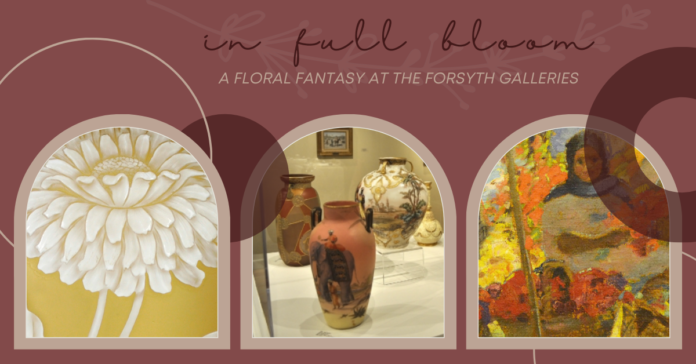 After a year of staring at the same walls of our home offices, this summer presents the perfect time to get out and see something new. Luckily, something new is just what you'll find at the Forsyth Galleries at Texas A&M. Featuring nature-inspired work from the late 19th and early 20th centuries, "In Full Bloom: A Floral Fantasy" is the Forsyth Gallery's latest art exhibition.
Thanks to the "In Full Bloom" exhibit (closing June 18), you can explore the beauty of nature through a new lens, with a focus on pieces that blur the line between the real and the abstract in paintings, quilts, glass, metal, ceramic and more.
And what goes better with art than live folk music? Come to the exhibit on June 9 for "An Evening of Americana" featuring live music by Mary Charlotte Young. Running from 5:30-7 p.m., the free event is designed so that attendees can come and go at their leisure, viewing the bright and colorful artworks with musical accompaniment. A great idea for an outing with friends, loved ones, or just on your own.
You'll be able to view the "In Full Bloom" exhibit along with The Forsyth's permanent works, established in 1989 with the Runyon collection, which includes superb examples of English cameo glass and blown, pressed, and cut glass.
The museum is open for normal operating hours from 10 a.m. – 4 p.m., Tuesday through Friday. For anyone who hasn't been there before, these galleries are located on the second floor of the Memorial Student Center on Texas A&M's campus. Despite being on campus, the museum is free and is open to everyone, so come on down and enjoy the sights.
Not comfortable visiting in person yet? The "In Full Bloom" website has several virtual 360-degree views of the collection so you can explore from home. This virtual element is similar to a street view on Google Maps and is very easy to navigate.
https://forsyth.tamu.edu/bloom/