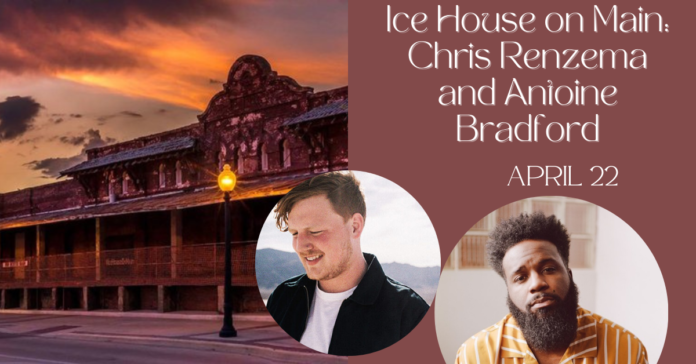 The Ice House on Main presents musical artist Chris Renzema and Christian musician Antoine Bradford on April 22 for an evening of worship music. Renzema and Bradford have been touring together around the U.S. since Feb. for "Get Out of The Way of Your Own Heart" and Bradford's "Light Will Find You."
Back in 2021, Renzema released his most recent album, "Get Out of The Way of Your Own Heart," which covers the topics of hope, pain, and praise. His albums encompass worship and personal struggles – the perfect balance. The worship music genre isn't a booming one, which is what makes Renzema's music all the more special. Since his first independent project, "I'll Be The Branches," he has gained over 36 million streams. He was nominated for a Dove Award in the New Artist of the Year category, and made the Pandora "New Artist to Watch" list for 2020.
Antoine Bradford, formerly known as ABIV, takes inspiration from smooth-sounding r&b and gospel music. His light voice compliments acoustic versions of songs wonderfully, and he's talented with the guitar as well. He's also dedicated to inspiring authenticity, making the claim that Christians can have faith while also admitting to their struggles.
This is a family-friendly concert, so everyone is welcome to come enjoy the lovely music and powerful messages. The concert starts at 7:30 p.m. Be sure to also check out these talented Christian artists and support them on streaming platforms. Renzema and Bradford keep their audience updated on their social media as well.