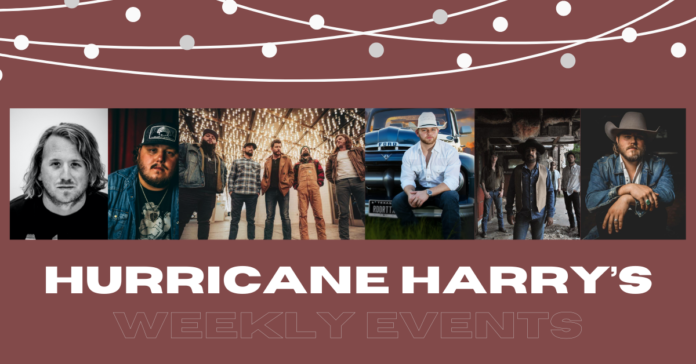 If you're looking for a way to celebrate this balmy Texas winter we're having, Hurricane Harry's, College Station's premier venue and dancehall, has a great slate of events lined up for this weekend. From Americana to country, Hurricane Harry's has you covered!
First of all, this Thursday, on January 28, you'll get the chance to see Jon Stork, a young rising star in the Red Dirt scene. Born and raised in Houston in a musical family, Stork got his start right here in College Station, trying his hand at songwriting and honing his performance at local venues. Though his travels have taken him all over the country, Stork has come back to Texas, and he released his first full length album back in 2019.
Performing with him will be fellow Red Dirt up-and-comer and Aggie Hayden Haddock. After Haddock's 2018 release of his first album, there were two singles that did exceptionally well, one hitting the Texas Country Charts Top 35 and 750K streams on Spotify. You can be sure Haddock will include a preview of some songs from his new album releasing Jan. 31. You can check out Hurricane Harry's website if you want to pick up tickets, which are $15.00, and the show starts at 9:00 p.m.
Secondly, on Friday, January 29, the Austin-based five-piece Shane Smith and the Saints will be performing their own brand of grassroots Texas country for their audience. Having been touring America for the last decade, Shane Smith and the Saints are veterans of the Red Dirt scene, and their electrifying shows are sure to bring the house down.
Tanner Usrey will kick off the show with his southern rock sound. His experience touring through Texas and the South shows off his relatable themes and meaningful lyrics all the more strongly. General admission to this show is $20, though there are extra seating options, including VIP seating, available online. The show begins at 9:00 p.m.
Lastly, this Saturday on January 30, Texas country veteran William Clark Green will stop by. Though Green has built his career elsewhere, he has roots right here in College Station, having graduated from A&M Consolidated. Green's decade-long career and numerous top ten singles show his pedigree, so don't miss it!
Joining him will be Shaker Hymns Band from San Marcos, Texas, a band that can handle just about everything from Texas southern rock to almost heavy metal. Similar to the previous event, tickets are $20, though extra seating options are available on Hurricane Harry's website.
Sources: