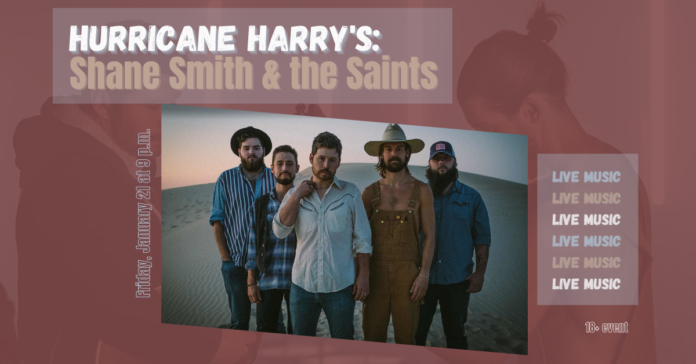 Gear up with your boots and belt buckles and grab your cowboy hats for a performance by Shane Smith & The Saints with guest Tanner Usrey on Friday, January 21 at 9 p.m. at Hurricane Harry's.
Shane Smith & The Saints, a five piece band from Austin, has been touring all over the world since 2015, and these experiences led to their 2019 album, "Hail Mary." Their Texas country "Red Dirt" style paves the way for a successful night at Hurricane Harry's, one of the most country-inspired spots in all of College Station.
Tanner Usrey, the opening act, plays a soulful country-rock style of music, perfect for getting your weekend off to a good start. Born and raised in Prosper, Texas, Usrey began his music career in 2013 with his brother, Tim, and in 2017, decided to go solo. Since then, he's had over 20 million streams. His music will not only lift you off your feet, but the performance will be an experience you'll crave again the second it's over.
Hurricane Harry's is a popular spot every weekend in College Station, attracting western and folk dancers as well as those who are looking to kick back, listen to music and have a good time.
Doors open at 9 p.m. to those 18 and over. Grab your $18 tickets on Hurricane Harry's website or in person at Cavenders Boot City in College Station.