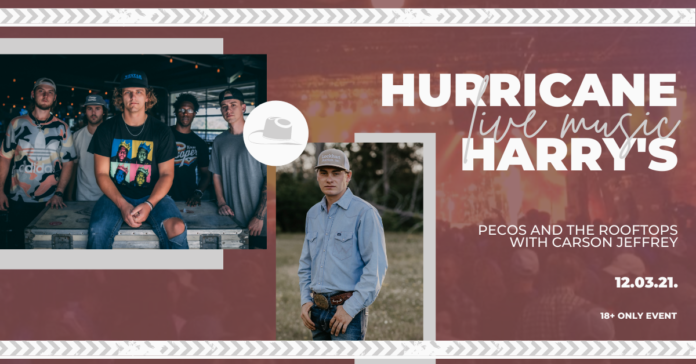 Slip on those boots and get ready for a night filled with hard-hitting, raw, and real country music from two Texas Natives that are taking over the music scene. Come and watch Pecos and the Rooftops along with Carson Jeffrey at Hurricane Harry's on Friday, Dec. 3 at 9 p.m.
Pecos and the Rooftops formed when a group of friends attending college in Lubbock realized they had something special. They describe their unique sound as "pure, raw, with a mixture of Texas country music and rock 'n roll roots." Made up of Pecos Hurley on vocals and acoustic guitar, Brandon Jones on rhythm guitar, Sheldon Baker on lead guitar, Kalen Davis playing bass and Kris Stephens on drums, the group released their debut single, "This Damn Song," in April of 2019 followed by their E.P. "Red Eye" in January 2020. Pecos and the Rooftops have over 985,000 monthly listeners on Spotify and this is only the beginning for this group.
Carson Jeffrey, a Cat Spring, Texas, native, picked up a guitar and started writing songs when he was in high school, and when he began performing acoustic shows when he was in college he realized many people enjoyed his music. In 2019 he put out his debut album "Muchos Sonidos," and then followed it up with another album the following year entitled "Heart of This Man." He'll be closing out 2021 opening shows for Cody Hibbard and Kevin Fowler.
Tickets for this fun night out are available to purchase on Hurricane Harry's website for $12. The event is 18+ only with a valid I.D.