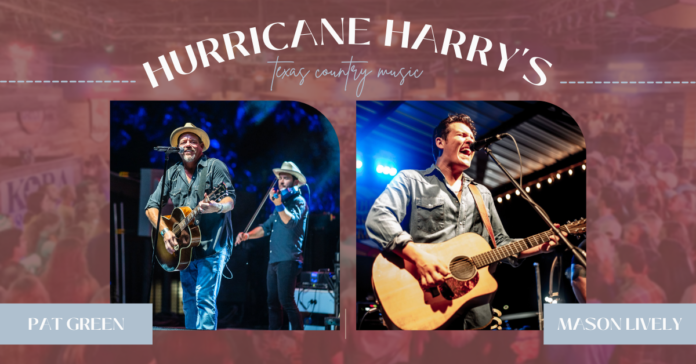 What better way to spend your Friday evening in College Station than to listen to some of the best music Texas country has to offer? Come to Hurricane Harry's to catch Pat Green and guest Mason Lively on Nov. 12 at 9 p.m.
Texas country artist Pat Green hails from San Antonio. Starting his music career at the age of 18, he played small gigs around Lubbock while at Texas Tech. Later on, Green drew the attention of Willie Nelson and was then invited to tour with him. Green put out his first major-label recorded album in 2001, called "Three Days." Now, Green is seen as one of the most influential modern stars in Texas country. Nominated for three Grammy awards and regarded as one of the most electrifying entertainers currently on tour, Green has been instrumental in putting Texas country on the map and helping pave the way for other artists. Since 1995, Green has recorded a total of seven studio albums including several independent works.
Born in Victoria, Texas, Mason Lively grew up around the country music atmosphere. While also being influenced by Blues and Classic Rock, he became interested in studying the songwriting of artists from his home state's music scene, including Pat Green. As a result, Lively began playing guitar at the age of 14 and started writing his music shortly afterwards. Lively released his second album, self-titled, in March of this year. With the support of his fans, fellow artists, and mentors, Lively is sure to take over the country music scene and beyond.
As usual with shows at Hurricane Harry's, you must be 18+ with a valid I.D. Tickets can be purchased at Hurricane Harry's website or Cavender's Boot City for $20, so act fast before they're sold out.
Enjoy an evening out and dance the night away while catching two musicians ready to bring the best of Texas Country music to the Brazos Valley!