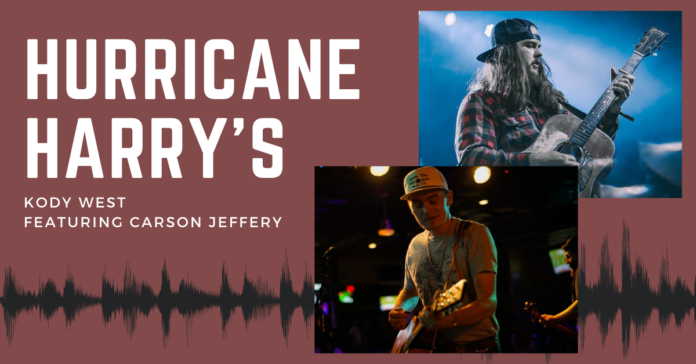 Due to the winter storm-pocalypse back in February, Texas native Kody West's performance at Hurricane Harry's had to be rescheduled. But fear not, the show is back on! West will be performing live at Harry's on April 9 along with Carson Jeffrey.
West stands out among other country artists. He has a commanding sound that contains a hint of country with a focus on a more mellow tone that allows him to thrive in a multitude of genres. His voice is captivating and he has a story to tell through his songs.
Over the past three years, West has been able to travel the world, performing music from his EP "Higher Ground" and albums "Green" and "Overgrown." West has been slowly gaining a worldwide audience and his songs on Spotify have millions of streams.
If one thing is true about West, it's that he's skilled at the guitar and pours his whole heart into his music. His song "Overgrown" will leave you heartbroken as West sings about being in love for it only to leave him grieving for a lover he misses. You can check out more of his music here. It is available for download on Spotify and Apple Music.
Carson Jeffrey, also being a Texas native, graduated from Texas A&M and has been performing regularly during college and now post grad. Although his music's style is inspired by country influences such as Chris Knight and Ryan Bingham, Jeffrey's focus is making music that feels right. His latest album, "Heart of this Man," was released back in October of last year and features a unique sound that is country and upbeat while some songs are heartfelt. It is the perfect album for anyone wanting to expand their musical taste and groove out to a young artist making his way up in the music industry.
Tickets can be purchased here. Doors open at 9 p.m. and tickets start at $15. If you originally purchased a ticket for West's show back on Feb.20, Harry's will also accept that ticket as a form of entry. Grab your friends for a fun weekend musical performance at Harry's!
Sources: