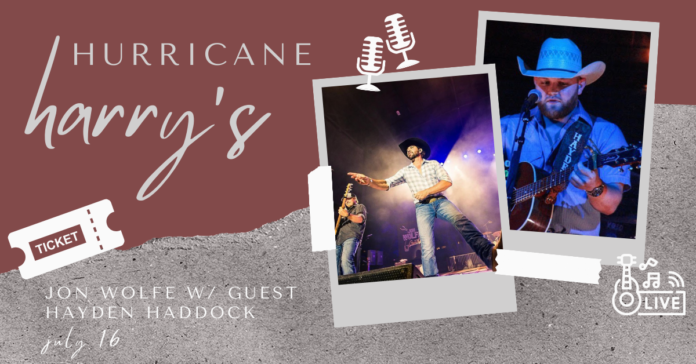 Dust off your boots, grab a cold one, and two-step your way into another classic College Station Friday night with some of the best Texas country music in the state. Head out to Hurricane Harry's to catch Jon Wolfe and guest Hayden Haddock take the stage for a full band show July 16 at 9 p.m.!
Finding his way into the spotlight and onto some of music's biggest charts via small-town Oklahoma, Jon Wolfe has been a name frequently touted on the radio for a couple of years now. With his boots scooting across honky-tonk joint stages nationwide for over a decade, Wolfe has played more than 400 shows in the past four years alone. Over the fourth of July weekend, he even found himself standing in the spotlight of Austin City Limits Live, the same place where some of his idols like Dwight Yoakam and Alan Jackson have performed in the past. "Any Night In Texas," Wolfe's most recent project (2017), hit #3 on iTunes Country and has kept him busy on the road these past couple of years. He was even able to accumulate a list of shows across the country ahead of this summer thanks to this success.
Though relatively new to the Texas country scene, Hayden Haddock might as well be considered a veteran in the game with all of the accomplishments he's already racked up. Also a performer with a heavy touring schedule like Wolfe, this 22-year-old A&M student is someone you'll want to keep an eye out for in the future. With two singles reaching the Top 10 on the Texas country charts, numerous morning show appearances in different cities, and his 2020 sophomore album "Red Dirt Texas" reaching over 2 million streams, to say Haddock is riding a wave of momentum would be an understatement.
Like any other show at Harry's, the concert is 18+ only. Tickets can be found here for a base price of $15, so act fast before they're all gone!
Get back out under the low light of BCS' biggest honky-tonk joint and dance the night away while catching two names that are bringing back classic-sounding country!