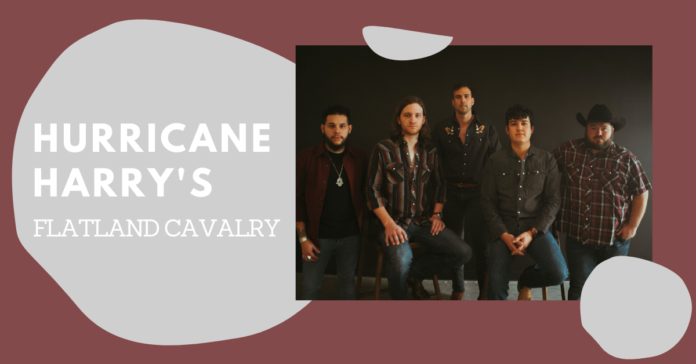 After the concerts were originally postponed back in early November, Flatland Cavalry is set to take the stage at Hurricane Harry's this weekend! And because Harry's has been closed for so many months due to COVID-19, we're pretty sure the country music group won't have anything short of a full house to perform for all three shows: Thursday, Jan. 21, with guest Matt Castillo, Friday Jan. 22, with Corey Kent, and Saturday, Jan. 23, with Mason Lively.
Originating out of Lubbock, Texas, Flatland Cavalry is a five member band formed by vocalist Cleto Cordero and drummer Jason Albers, who were roommates at Midland College and would play at local venues together. After the two transferred to Texas Tech in 2012, they met Laura Jane, and turned the duo into a trio. In 2014, Jonathan Saenz and Reid Dillon joined the country music group, making the band complete. When Jane left the band in 2018, she was replaced by Wesley Hall, who has been with Flatland Cavalry ever since.
Over their eight year musical career, Flatland Cavalry has put out one EP and two studio albums that fill your ears with the sweet sounds of country music. Staying true to their Texas roots, they create music that reminds listeners why they fell in love with country music in the first place, with the soothing sounds of the violin and guitar heartfelt lyrics about life and love and everything in between.
On Thursday night, Flatland Cavalry will be joined by Matt Castillo. From south of the state in Edinburg, Texas, Castillo has three albums under his belt and is definitely making headway in the country music scene.
On Friday, Corey Kent will open. The Oklahoma native who made it to the top 10 on season eight of "The Voice" will be performing some of his originals for the crowd. His first appearance on stage was at the ripe age of 11, so Kent sure knows how to please a crowd.
And last but not least, topping off the weekend will be Mason Lively from Inez, Texas, with songs from his debut album. He might even tease fans with an exclusive listen to his new song "Love Ain't Done a Damn Thing," which drops on Jan. 27.
So clear your calendar, gather your friends, and get ready to listen to live country music all night long! You might want to get in line early, as the tables within each section are first come first serve.
Before leaving the house, don't forget to grab your mask! They are required upon entry and while walking around, but when seated in your designated area, you can remove your face covering if you wish. When the concert starts, sit back, relax, and enjoy the show!
Source:
https://en.wikipedia.org/wiki/Flatland_Cavalry 
https://www.allmusic.com/artist/corey-kent-white-mn0003449332/biography