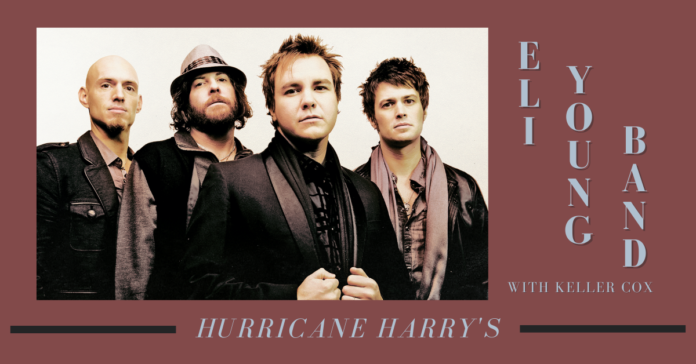 If your calendar is still clear for Thursday evening, take it as a sign to mark it off for leisure and take advantage of what BCS favorite Hurricane Harry's has in store. On April 8, the four multi-platinum musicians of Eli Young Band bring their hit albums live to BCS with guest Keller Cox.
EYB's long, steady climb to the top has earned them the reputation of one of country music's most respected bands. Their singles have been named Billboard​'s #1 ​Country Song of the Year​ and ACM Awards ​Song of the Year​. Over the years of performing coast to coast, they have toured with Jason Aldean, Dave Matthews Band, Kenny Chesney, Rascal Flatts, Toby Keith, Tim McGraw, and Darius Rucker.
Together the "band of brothers" celebrate their Texan roots through their music, evident through their shared bond and unique sound. Their music approaches universal themes listeners can relate to, though the artists often write from their own experience. They deliver thoughts on love and life through their classic southern sound with modern instrumentation. When it comes to loss and hard lessons learned, Eli Young Band knows how to pull at your heartstrings.
Some sensations from their several albums include "Love Ain't," "Drunk Last Night," "Even If It Breaks Your Heart," and "Crazy Girl." Their newest single, "Break It In," expresses life lessons learned with time. The lyrics explain how, like a new pair of shoes, life is good, but "You think that good is good as it can get / Then you break it in."
Along with EYB, you'll also hear from Keller Cox. A native of Houston, Cox is not only a TAMU student and Head Yell Leader, but has also been developing his musical career with a number of singles released during the pandemic. According to his Spotify bio, Cox connects with his audience through "songs about how life was, is, and ought to be."
You can grab your tickets for $22 through Hurricane Harry's website. Doors open at 9 p.m. with the show starting at 9:30. Get your tickets, get your friends, and if your family's here or in town for A&M's family weekend, get them, too, for a Thursday night you are sure to remember!