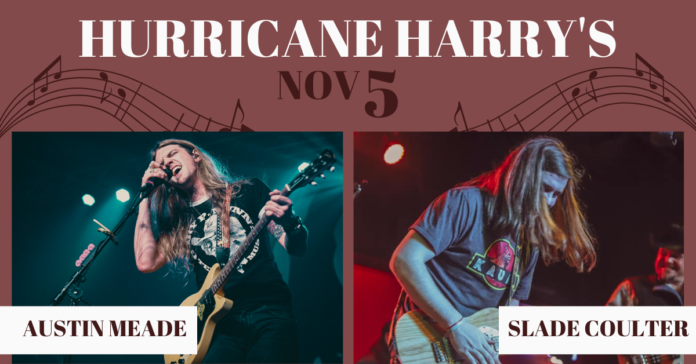 As the weather starts to really cool down in Texas, there's no better time to dress up, grab yourself a cold one, and enjoy a Friday night out in College Station with music from two Texas-born rock artists. Come to Hurricane Harry's to catch Austin Meade and guest Slade Coulter take the stage on Nov. 5 at 9 p.m.!
A former drummer, Meade played in a cover band while earning his business degree at Texas A&M. He soon found his true passion as a songwriter and guitar player, and now fronts his own band, creating songs inspired by the music that molded his adolescence: 70's rock. With songs covering heavy topics like corrupted love, drugs, prison, church, and hard living of the working class, it's surprising to learn that Meade got his start playing guitar in the church band, and his dad was the minister. But he's just put out his third full-length album, fittingly entitled "Black Sheep," featuring his current singles "Happier Alone" featuring Koe Wetzel, "Dopamine Drop," and "Cave In."
Slade Coulter is an up-and-coming artist in the Texas music scene. Combining his small-town upbringing with sounds inspired by classic rock, this Jayton, Texas native looks to bring a new presence to the scene. Coulter has a new single, "Coming Back Around," and plans to release a full-length album in the fall.
Like all shows at Hurricane Harry's, this one's 18+ with a valid I.D. Tickets can be purchased on Hurricane Harry's website for $12, so act fast before they sell out!
Enjoy a fun night out and rock out with two names that are sure to bring the house down!