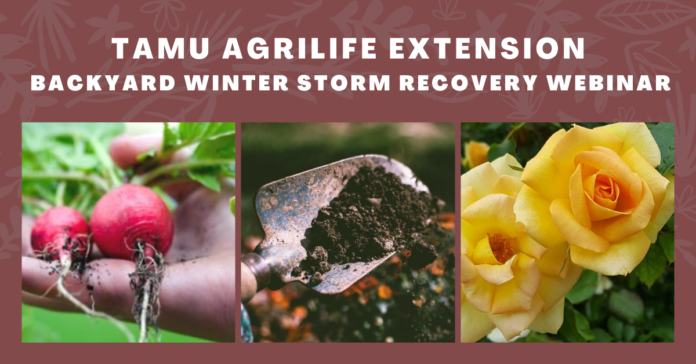 After the great snow-poccalypse Texas had last month, everyone's lawns are in need of quite the manicure. Living in the south, we aren't accustomed to freezing temperatures (and neither are our plants!) and the steps to recovering your lawn might seem like a mystery right now. You may be asking yourself, "Are my plants dead? Do I need to pull them out? Leave them alone?" The folks at TAMU Agrilife Extension have answers for you! In a little more than an hour, you can watch their Backyard Winter Storm Recovery Webinar and know just what to do. Here's a summary of the top tips from the webinar:
A natural inclination to reviving your yard might be to throw some fertilizer on the spots that aren't looking so great. Chrissie Segars, Turfgrass Specialist for TAMU Agrilife Extension, tells us that the right timing for fertilization is crucial. Once the temperature starts warming up consistently, take note of when your grass is actively growing again. Waiting until you have mowed your lawn twice will ensure you've waited long enough and indicates that it's time to start fertilizing. When deciding how to fertilize your yard, conducting a soil test can provide insight into what is best for your yard. You can take a soil sample to the Texas A&M Soil, Water and Forage Testing Laboratory to get it tested. More information can be found on their website. Becky Bowling, the Urban Water Extension Specialist for TAMU Agrilife Extension, says it's important to remember to keep your mower blades sharp and to mow frequently once the turfgrass starts growing to make sure it stays healthy.
If you've got deciduous trees or shrubs in your yard, they go through a dormant period during the winter that's designed to get them through cold temperatures, so they are probably going to be just fine, Laura Miller, County Extension Agent for Tarrant County, tells us. Evergreens, however, are more sensitive to the cold, and may need to be looked at closer. If your plants are well established with a good root system, they are much more likely to have survived the cold, so fear not! Your beloved plants you've had forever will hang in there! Overall, taking a closer look at your plants' roots, where they're planted, and considering the type of plant they are can help you determine their health.
If plants are dead and you have to replant, look at it as an opportunity to try something new! TAMU Agrilife Extension Urban Water Specialist Becky Bowling suggests that you ask yourself, "Is there a different type of plant that may be better for my location?" You may want to try out a new turfgrass! While your soil is exposed, you have the chance to redesign your system, give compaction relief, and consider if there are any limitations to your site. Additionally, if you see parts of your lawn recovering better than others, you can try plugging—taking sections of grass from healthy areas and using them to recover the areas that may have suffered more from the storm.
For loads more information about taking care of your plants after the winter storm, you can watch the webinar on the Facebook page. You'll also find gardening tips worth knowing on the Facebook page as well.
Sources: