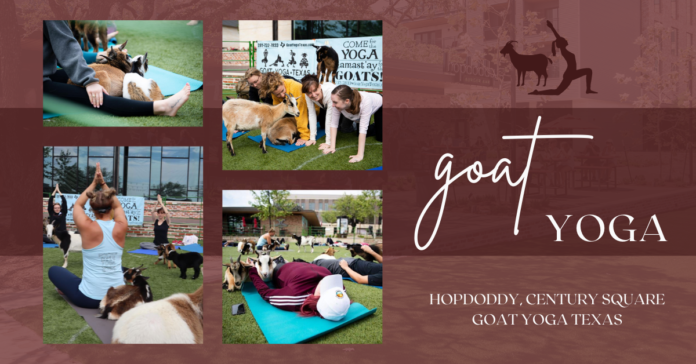 Looking for a fun way to get some exercise, and also do something that is a little out of the box? Well then Century Square, Hopdoddy Burger Bar and Goat Yoga Texas are bringing just what you need on Friday, Oct. 22 starting at 10 a.m.
Goat Yoga Texas was started by husband and wife yoga instructors David and Kimberly Brooke back in 2017. Since then, they've brought their hand-raised Nigerian Dwarf goats to more than 800 events, hosting 10,000 yoga enthusiasts and goat lovers. The class uses the traditional Hatha yoga practice and is catered to all skill levels, so even if you've never tried yoga, this class will be a great way to get involved.
As you are focusing on your form, the goats wander around the event space freely, and they will often engage with participants by cuddling with them or laying on their yoga mat. Goat Yoga Texas is currently raising their fifth generation of goats, and make sure the goats are met with unconditional love and care to bring the best experience for everyone that attends.
The class consists of 45 minutes of all-level yoga exercises followed by a 30 minute free time with the goats. The class will be led by certified yoga instructor Kimberly Brooke, who has more than 2,000 teaching hours. Don't worry if you don't have the right equipment for yoga either, because the ticket includes a yoga mat. Afterwards, enjoy a Classic Burger from Hopdoddy Burger Bar.
This event will take place on The Green located at Century Square between Hopdoddy Burger Bar and Sweet Paris Creperie & Cafe. Tickets are priced at $45, and it's an age restricted event, with anyone 12 and over able to participate. Ages 11 and under are welcome to have fun with the goats under parental supervision for the 30 minute after class snuggle fest. Participants that are 15 -12 must have a guardian signed up who is also participating in the class. See more information about the event on Century Square's website.