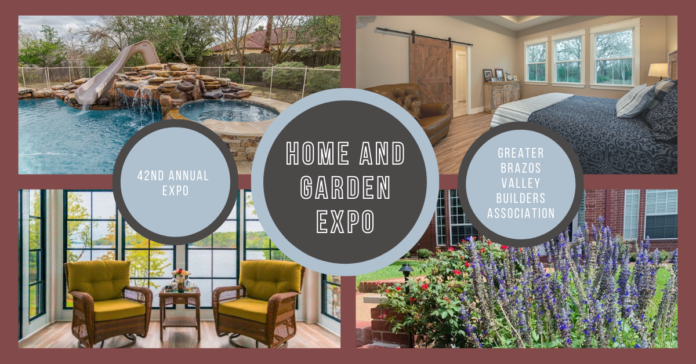 Hey there, current or future homeowners! If you're looking to make improvements to your home or need products to incorporate into your new build, join the Greater Brazos Valley Builders Association for the 42nd annual Home and Garden Expo on May 22 and 23!
Taking place at the Brazos County Expo Center, home owners will have the opportunity to speak to a variety of local vendors to see how their services might be able to fit their needs. Stop by Sunspace Texas and learn how their customizable outdoor living space options can transform your porch with products that protect from dust, insects, harmful UV rays, the heat, and more! If you're looking to redo your yard, mosey on over to the Kevin's Landscapes booth and talk about adding plants and colorful flowers to the front of your home to make a big difference!
And if you're thinking about building a house, make sure to check out Southwest Homes BCS to better envision what your future home could look like! With a variety of designs and plans to choose from, the options and customizations for your new, sweet digs are endless! And make sure to stop by Sunshine Fun Pools to see how their high-end, custom pools can fit into your house plans and serve as the perfect backdrop for a party on a warm summer day!
Tickets are available for purchase here or at the door for $3 for seniors, $5 for adults, and free for kids 12 and under. While the ticket prices will remain the same over the two day event, the times for each day are different, with Saturday, May 22 taking place from 9 – 5 p.m., and Sunday, May 23 from 11 – 4 p.m.
So whether you want to start making add ons and improvements next week or are just checking out local companies that can help you create your dream home down the road, make sure to stop by the Home and Garden Expo this weekend!