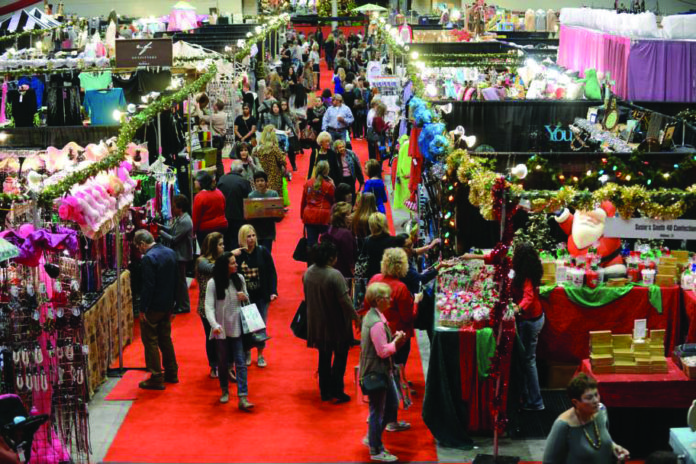 It's (almost) the most wonderful time of the year! The holiday season means it's officially time to begin holiday spending, and you can get a head start on your holiday shopping with these two great local markets featuring the best of small businesses in the Brazos Valley!
Jingle Bell Market: Sunday, November 17, 12-4 p.m.
This free market shopping experience caters to shoppers and is a great way to support the community's local businesses and charities. This year's Jingle Bell Market will benefit local charity OnRamp, an organization that donates and services vehicles for individuals or families on the road to self-sufficiency and financial stability. With this year's market being the biggest market so far, the market's attendees will be able to purchase a variety of items, like tasty treats, home decor, jewelry, hand-crafted gifts and children's items from over 35 local vendors. Shop the Jingle Bell Market on November 17 from 12 to 4 p.m. at Pebble Creek Country Club. Attendees will also have an opportunity to purchase mystery bags for $20. For more information, check out the Jingle Bell Market Facebook page.

Merry Marketplace: Sunday, December 8, 1-5 p.m.
If you're not quite ready to dive into Christmas just yet, you can check out another free shopping event, the Merry Marketplace, in early December. Also experiencing its largest market since its start, the Merry Marketplace will feature over 50 locally owned businesses. Some of the businesses that will be present at the event include The BEE Community, Blue House Joys, Davis Art Co., The Blanket Bar, Carly Cakes Sweets, White Lotus Pottery, and so many more!

Attendees will also be able to purchase raffle tickets to benefit the local non-profit Aggieland Pregnancy Outreach (APO). The Mama Club within APO gives each mom a board book and diapers before heading home. Donate a board book or box of diapers to APO's table at the market and get an extra raffle ticket.

The Merry Marketplace will be held on Sunday, December 8 from 1 to 5 p.m. at the Hilton Ballroom. Those interested in the Marketplace can follow the Merry Marketplace Facebook page to learn more and to enter giveaways.