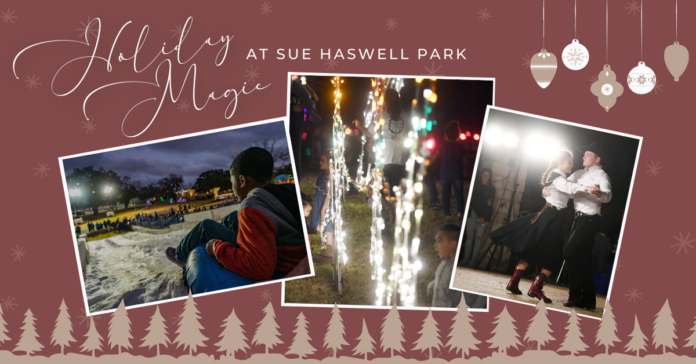 Looking for the perfect event to get you in the holiday season? Well then, you're in luck because the City of Bryan's annual Holiday Magic event is returning this year to Sue Haswell Park on Thursday, Dec. 2, from 5:30-8:30 p.m.
Holiday Magic offers a variety of fun activities for the entire family totally free of charge, including bounce houses and two trains that are big enough to have the entire family come aboard. Although those activities are enough to get the attention of many families, the crown jewel of the event is their snow hill. "A company comes in from Colorado that builds this for us, and kids can sled down that," says Gwynne Shillings, Event Coordinator for the City of Bryan's Parks and Recreation. Shillings also mentioned that the snow hill is not solely for children, even adults will be able to get in on the fun!
Also, any holiday celebration would not be complete without a visit from the big man himself! He'll arrive in style on a fire truck around 5:30 p.m. and will loop around the park in order for everyone to see him. Santa will also have a designated area for photos with a backdrop, so bring your camera!
Entertainment provided by a variety of Bryan ISD students on the plaza will add the festive cheer we need during the holidays. "We open it up to all of the arts within Bryan ISD right now; it's typically been the choirs who come out and sing," says Shillings. There will be seating near the plaza for you to sit and enjoy the holiday music by some very talented students.
This event is totally free, and if you're worried about parking, there'll be free shuttles to and from the event, departing from Blinn College's bookstore at 2002 E 29th Street. The shuttles will start running at 5:00 p.m. and will continuously run throughout the event until 9:00 p.m.
Come kick off the holiday fun, Bryan style!