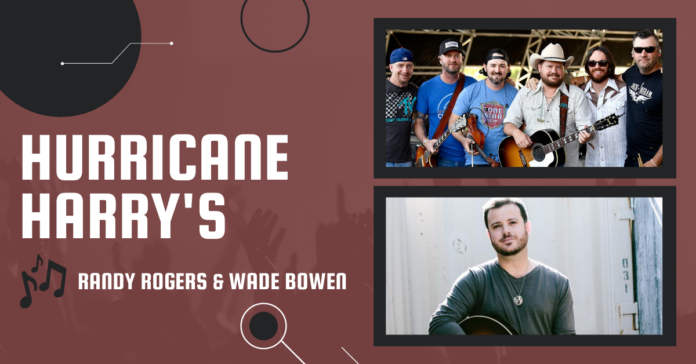 Summer days in BCS are hot, but the nights are even hotter as you hold that special person close while the rugged voices of honky tonk heroes grace the air. So lay out your favorite denim and relive the days where roadhouse joints were the spot to be and the only thing that mattered was a good time. Whether your heart aches and you're listening to forget or you're hightailin' your way to the dance floor every song, the place to be July 21 is Hurricane Harry's to catch the Randy Rogers Band share the spotlight with Wade Bowen at 9 p.m.!
Wednesday nights have been a little more exciting with Harry's 5th Annual Acoustic Summer Series, welcoming country standouts from all corners of the nation. Sharing the stage and taking a night to swap songs and stories you won't hear elsewhere, Rogers and Bowen are back, supporting the duo's second collaboration together, "Hold My Beer, Vol. 2," released in May 2020. With two decades of friendship and countless individual milestones and accolades behind them, these boys will bring you a one of a kind concert with plenty of tales to tell.
Also joining the show as the opening act is Del Rio native William Beckmann. With lyrics reminiscent of an old soul and a unique charm embracing his Mexican roots, Beckmann is continuing to prove himself as one of country music's rising stars that will find his way to the top in no time.
As always, shows at Harry's are 18+ so don't forget to call a sitter for the night. Tickets are $20 each plus fees and can be found here. Doors open at 9, music starts at 10 p.m.
Head out to Harry's and raise a cold one to celebrate these two Texas country giants sharing the stage!