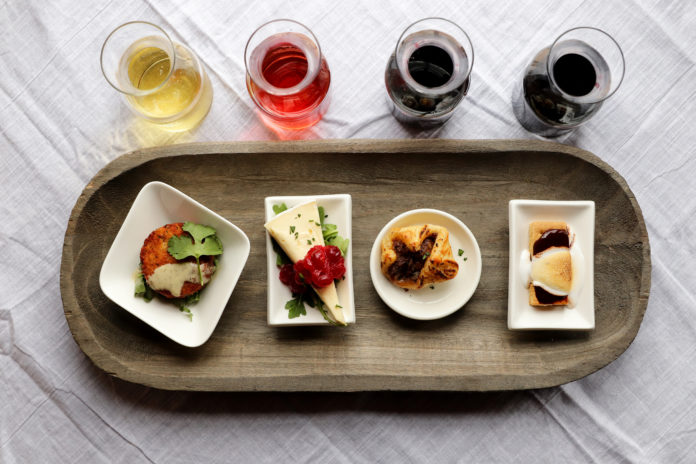 Comfort food is all about warmth and familiarity, and can sometimes be found a little further from home than you might expect. So if you're feeling adventurous, try out Shrimp Pad Thai and take a trip to Asia without leaving home with Thailand's national dish.
Built on the sweet and sour combo of the brown sugar plus vinegar or lime juice sauce, Pad Thai can also offer a kick with sriracha or chili garlic. For the kids, their favorite flavor of ramen with maybe a couple of slivers of veggies thrown in will do the trick.
The great thing about this week's suggestion from Karen Bonarrigo, Messina Hof Winery and Resort's Chief Administrative Officer, is that there's a vegetarian option if that's what you'd prefer. You'll want to start with whatever vegetables you may have and get creative! Peppers, onion, garlic, carrots, broccoli, snow peas, and certainly water chestnuts if you have them, can all be thrown in the pan and tossed with a simple brown sauce made from soy sauce, cornstarch, and even a dash of the wine you'll be pairing it with. Recipes abound online for Pad Thai, so don't just settle for the first one that pops up!
To accompany this intensely flavored dish, Karen says,"Exotic flavors need dynamic and aromatic wines to match their sophistication," so choose Messina Hof Private Reserve Gewürztraminer or Messina Hof Father and Son Riesling.
Literally translated as "spicy grape," Gewürztraminer pairs well with anything exotic. Think hot, spicy dishes like Tex-Mex, Cajun or Caribbean. It also does well with vegetarian dishes, and according to the Messina Hof website, it "makes the flavors of vegetables and herbs pop off the plate." Here you'll find notes of exotic fruits like lychee and hints of ginger. This medium-bodied wine has a delightfully crisp flavor.
If light bodied is more to your preference, Messina Hof's Father and Son Riesling is a semi-sweet wine. Delicate, fresh, and filled with flavors of honeysuckle and citrus zest, this wine also pairs well with anything spicy, such as Pad Thai, Cajun cuisine or blackened seafood.
Try this Asian treat to spice up your routine and create a spectacular yet simple meal for your family. And while you're at it, be sure to check out the S.I.P. (Shelter In Place) Survival Kits, offering a bottle of various selections of Messina Hof wine paired with an appropriate appetizer or chocolate truffles. There's even an option of a morning add on with coffee and Messina Hof in-house baked Banana Bread.
For those special occasions, which could really be considered every night these days, The Vintage House Restaurant offers a Takeout Menu. Messina Hof now offers an additional three ways to purchase their wines: pick it up curbside, ship it at their new discounted shipping rates, or have it brought straight to your door if you order over $50.
For more info on curbside, shipping, and delivery, go to https://bit.ly/2xSEoQO.  To order Messina Hof Private Reserve Gewürztraminer, go to https://bit.ly/2yNpMmk.  For Messina Hof Father and Son Riesling, click here: https://bit.ly/3cTtMAl.